Broadcast News
05/02/2014
Sennheiser ADNs Installed In German Court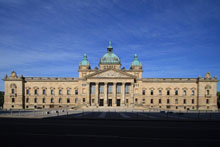 Sennheiser ADN conference systems were installed in two rooms in Germany's Federal Administrative Court (BVerwG) at the end of 2013.
Studio-Elektroakustik GmbH was given the job of installing the system, as the Federal Administrative Court is a long-standing customer of the Leipzig-based company. Project manager was Andre Scholze.
The existing conference system was no longer able to meet the demands of the court with regard to audio quality.
"The court contacted us and expressed an interest in a new conference system," said Andre Scholze. "As a result, we set up a demonstration with the ADN systems. Even after the initial listening tests, the Sennheiser discussion system was able to prove itself beyond doubt. As far as audio quality and speech intelligibility are concerned, the old components and the new solution were worlds apart."
Sennheiser ADN conference systems were installed in two courtrooms.
Courtroom IV and the Grand Historic Courtroom are each equipped with ten digital discussion units (1 x ADN C1 and 9 x ADN D1) permanently installed in the judges' desks.
In addition, there are 15 more discussion units that can be used when required and which are connected by the court's own technical staff. The gooseneck microphones are fitted with a super-cardioid capsule developed by Sennheiser.
The discussion units are connected by Cat 5 cables, with plugs that go into concealed connection sockets. As the cables of the built-in units are laid inside the desks, the optionally available strain relief system (ADN TR1) was not required. A cabled solution was provided.
"Wireless communication of any kind, including wireless LAN, is not permitted in the courtrooms," said Andre Scholze.
As the Sennheiser ADN discussion units were to be built into the desks, Studio-Elektroakustik GmbH commissioned its own team of fitters to carry out the work.
"Providing custom-made solutions is a key part of our service," said Andre Scholze. "For aesthetic reasons alone, the Federal Administrative Court would not have been happy with discussion units placed on top of the desks."
The discussion units communicate in a network with the digital ADN CU1 central unit, which is connected to an ADN PS power supply unit. The BVerwG uses two central units and two power supplies together with a total of 35 discussion units.
Audio signals are not electronically recorded in Leipzig due to unresolved legal issues. Two court reporters still record the spoken word in a written form in the conventional manner.
The Sennheiser ADN "Conference Manager" software offers the possibility of convenient digital minute-taking at any time. A free app called Sennheiser Easy Control is available for the ADN system. The app makes it possible to control and monitor up to 15 discussion units directly via an iPhone or iPad.
The new Sennheiser ADN conference system in Leipzig was officially put into operation on 5 December 2013.
www.sennheiser.com
(IT/JP)
Top Related Stories
Click here for the latest broadcast news stories.