Broadcast News
14/04/2014
Mining Media Archives With Phonetic-Based Searching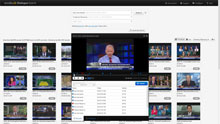 Whether it's a news or sports broadcaster, house of worship, corporate video department or postproduction house, media organisations today are storing and archiving untold amounts of video and audio (along with its associated mezzanine files) every day, writes Drew Lanham, SVP, GM, Media and Entertainment at Nexidia.
Once it goes into the archive, getting it back out again can be tricky; not only because of the sheer volume of content that must be searched, but because that content often lacks the descriptive metadata that would make it discoverable. Finding a specific asset, let alone a specific moment within a specific asset, is all but impossible using basic clip-based metadata alone (filename, type, date created, timecode, etc.).
The trouble is, creating the rich metadata that makes media searchable can be too expensive, too time-consuming, or of insufficient performance – or a combination of all three – to be effective or practical. Even some of the most well-funded, well-staffed media operations might lack the resources to do any regular or thorough logging or transcription — a laborious process that requires someone to watch every bit of the video in a logging application and make notes about ('tag') the content, which get saved as metadata and today is only done opportunistically as the need arises.
Yet logging and transcription are typically what's required to generate rich, descriptive metadata. The cost of manual logging adds up quickly, not to mention that it can be many times slower than real time. The time and money required for transcription is no better. There are software applications available that can semi-automatically tag assets, but they too can be expensive and also might not provide enough detail or accuracy to be truly useful.
Unless media operations have an effective means of searching their libraries, all of that video could very well languish in the archives instead of being repurposed, its money making potential unrealised. Even the most sophisticated media asset management systems can't find assets that aren't properly tagged. So, since current processes usually don't yield enough metadata, then we need a more sophisticated search method.
Nexidia Dialogue Search provides a new search method that can quickly and accurately search an archive whether there is metadata available or not. Based on patented phonetic-based search technology, this method makes it possible to find any spoken word or phrase across massive media libraries in seconds. It's akin to Google for audio, where users simply enter keywords and phrases that locate the specific media and allows them to take action on it. Dialog in and of itself is part of a media asset without the need to be manually logged.
With phonetic-based search technology, an application scans all of the assets in a media library and creates a time-based, searchable index of sounds called phonemes. Once the media is indexed, the assets are instantly searchable via the simple text entry of words or phrases and are not reliant on exact string matches with existing metadata fields.
Because it uses these phonemes, the individual sounds that make up the words on the audio tracks, misspellings do not penalise your search as long as it sounds like the words you're looking for. Phonetic-based searches are far more accurate than speech-to-text methods, as it does not miss important keywords or proper names, is not reliant upon a given vocabulary, and is not thrown off by slang or individual accents.
For media operations that do not use logging or transcripts because of budgetary concerns, or because of tight-schedule programming such as news, phonetic-based searching provides nearly instant results based on the spoken dialog in the audio tack.
When combining this spoken-word search with a scan of traditional metadata, the concatenation of the two searches provides even more granular results. In the end, phonetic searching provides the richest, most relevant results at a fraction of the cost and time it takes for the other methods, dramatically reducing logging and transcription costs and accelerating production.
Perhaps most important, creating a searchable index that does not rely on traditional logging or transcription metadata can unearth a gold mine of valuable assets that traditional metadata could never expose.
www.nexidia.tv
Read the article in the online edition of RFV
here
.
(IT/JP)
Top Related Stories
Click here for the latest broadcast news stories.