Broadcast News
20/03/2014
Singing Praises: Disk Archive And ALTO Architecture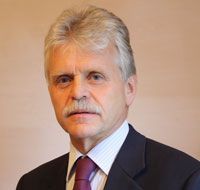 Established in 2009, Disk Archive Corporation specialises in developing and supporting high capacity, high availability solutions for long-term storage of large volumes of media files. Disk Archive's ALTO Modular Archive Storage system is optimised for longevity, security and performance and is designed specifically for offline storage. RFV caught up with MD Alan Hoggarth...
Having been established in 2009, Disk Archive is a fairly young company. How did the team come together, and what experience was brought to the table during the company's formation?
As a company, our corporate DNA is based on storage platforms, storage management and best-of-breed solutions for Broadcast and Media companies. My own background was with Omneon where we were one of the players in the evolution of file-based workflows. Tapeless systems were already the norm in 2009 when DAC was founded, but it was evident that there was no satisfactory solution for tapeless archiving. Most facilities had migrated from video tape to data tape, which was a step in the right direction, but the whole idea of a linear archive in an otherwise non-linear environment stood out as a problem waiting to be solved. Data tape libraries had been around for over 25 years, well established as the only solution capable of delivering high storage capacity and robust performance at an affordable price, but the economic argument in favour of tape was overturned in 2009 when a 1TB Disk came to market at the same cost per Terabyte as the equivalent data tape cartridge.
There were still a number of problems to be solved to create a practical disk archive, particularly power consumption, and security, but the underlying economics were there.
Storage and archiving has changed substantially over the past few years. Has the company had to adapt?
Being new to the archive market we had the advantage of being able to design a storage platform that could evolve as requirements change in the external environment. Our original idea was to offer a straightforward alternative to a data tape library, but it became evident that an ALTO working in tandem with an existing tape library also had great potential since it could avoid the need to periodically migrate the archive to create additional space and at the same time extend the life of the tape library by reducing the wear and tear on both the library and the tapes.
More recently, cloud storage has become the hot topic and although at first sight, it would seem that the cloud and ALTO are in head to head competition. ALTO's replication-based storage nicely complements cloud storage, bridging the requirements for a readily accessible on-premise copy of the media backed by the security of a 'copy of last resort' in the cloud. So as a company we have not really had to adapt. It has been more a case of understanding how and where ALTO storage can fit in a rapidly changing landscape.
Tell us about the ALTO – II. How does it compare to data tape library storage?
ALTO is based on an array of very high capacity disk drives, but with one fundamental difference from other storage systems. The media files are written as continuous files on the disk and replicated in two or more locations for security. No RAID; no slice and dice! Since ALTO disks are independently controlled, any individual disk which is not being used for reading or writing data is spun down and stopped. In an archive, where content is infrequently accessed, this means that most of the disks are stopped for most of the time, saving power and extending the life of the disks.
In operation, ALTO has a characteristic latency of a few seconds to spin-up a disk to restore the data, which you can compare with the time to load a cartridge in a tape library, but once the disk is spinning it provides random access, eliminating the shuttling associated with data tapes. In a tape library, a small number of shared tape drives service a large number of tapes, whereas in a disk archive each disk is an independent read/write device, so taking all of these factors together, the overall performance is correspondingly higher. ALTO disks are analogous to LTFS tapes, so they are also removable and can be opened offline with a standard computer for DR or project transport. ALTO borrows many concepts from the tape library.
How does the ALTO benefit companies that select it, from a business point of view?
Non-linear workflows are well established in all broadcast and media operations today but in most facilities, the archive is still based on linear tape. ALTO offers faster, non-linear access for more concurrent users, so the first advantage is simply the superior performance of disk compared to tape.
In most cases, disk storage brings significant additional overheads in terms of power consumption and disk replacement costs. Since ALTO disks are stopped when not reading or writing, power consumption is reduced and disk life is extended reducing replacement and recycling costs and contributing to ALTO's low total lifetime cost.
One additional benefit of the ALTO architecture is that the disks themselves can be purchased locally and added on a buy-as-you-go basis, taking advantage of falling disk prices and larger capacity disks can used in any combination as they become available. This also allows the disks themselves to be treated as an operational expense rather than capital cost.
Disk Archive seems to take its environmental responsibilities seriously. How does the company lower its carbon footprint, and do you think this is an important issue in the broadcast industry?
Total lifetime cost of ownership is absolutely critical when planning an archive. Until recently, power consumption was the single biggest factor prohibiting the use of disks for archiving. Driven by the demand from data centres and cloud storage providers, disk capacities have increased from 1TB in 2009 to 6 TB in 2014, for the same power consumption, or less. On this basis we can see that since ALTO was introduced, the power consumption per Terabyte for the disks has fallen by an astonishing 80%.
Overlaying ALTO's ability to use these big disks safely, in a power saving architecture and we can reduce the disk power consumption close to zero in a typical deep archive, saving up to 70 MWh per Petabyte per year in power and A/C compared to high performance storage platforms. In an age when most broadcasters and media companies are looking to reduce costs and meet corporate environmental goals this has to be a classic win-win!
What are some of the company's most recent installations? Are there any big projects in the pipeline?
The first ALTO shipments in 2010 were at the height of the recession in UK and Europe, so as a company we focussed on international markets where the recession was less entrenched. Today 80% of ALTO installations are in Russia, Asia and the Middle East.
Introducing a new concept such as ALTO against the backdrop of 25 years of data tape technology was always going to take time and it's one of life's immutable facts that archives seldom take top priority when budgets are limited, but we are pleased that ALTO is gaining momentum in Europe and Africa now and we will be announcing several project wins in the coming months.
Read the interview in the online edition of RFV
here
.
(IT/MH)
Top Related Stories
Click here for the latest broadcast news stories.