Broadcast News
19/03/2014
Qumu Offers Nexidia SearchGrid As Standard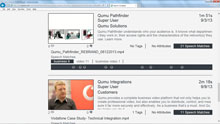 Nexidia has announced that Qumu, provider of the enterprise video platform for webcasting and online video streaming, will now offer Video Speech Search, powered by Nexidia SearchGrid, as a standard part of its enterprise video management portal and viewer.
Since the second quarter of 2013, Qumu had been offering its Nexidia-powered Speech Search module as an add-on to its Video Control Center product. Now, as a result of customer feedback, Qumu is providing Speech Search as a standard component of both its on-premises and hosted cloud offerings.
"The enterprise video content management space is highly competitive, and Nexidia's technology has helped us differentiate our product and provide added value," said Vern Hanzlik, Sr. Vice President and General Manager at Qumu.
"Our customers have given us very positive feedback in the short time that Speech Search has been available, so it was an easy choice to make Nexidia's technology a standard part of our core viewer and portal technology."
In The Forrester Wave™: Video Platforms For The Enterprise, Q1 2013, Forrester Research analysts said: "Qumu scored highest in the Forrester Wave for current offering due to its complete application feature set, availability of video distribution and content routing appliances, and its recent introduction of speech search capabilities."
"Qumu is a market-leading company that listens to its customers, who represent the upper tier of the world's global enterprises. By acting on that valuable feedback and analyst validation, Qumu has decided to make Nexidia-powered search functionality a standard feature across its platform," said Drew Lanham, senior vice president and general manager of Nexidia's Media and Entertainment division. "We believe the ability to make video searchable through speech has emerged as a game-changing functionality, and we are pleased that our relationship has helped in positioning Qumu as a market leader in Enterprise Video."
www.nexidia.tv
(IT)
Top Related Stories
Click here for the latest broadcast news stories.