Broadcast News
18/03/2014
Lawo Launches M.A.R.S. SoundPad for Innovason Eclipse GT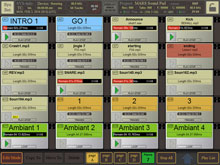 Lawo has announced the launch of the SoundPad plug-in with touchscreen operation, bringing new playback functionality to the Innovason Eclipse GT mixing desk's M.A.R.S. multitrack recorder.
SoundPad enables the preparation and triggering of up to 64 audio files containing up to eight audio channels each. Audio files can be triggered in various ways, including via time code, MIDI, touchscreen operation, fader start, mute key etc. They can be imported into the M.A.R.S. removable SATA HDD or read-out in real time from any USB device connected to the Eclipse GT. SoundPad can be used in parallel with a M.A.R.S. project; any recording or playback of a multitrack session during the use of the SoundPad will be unaffected. Each audio file assigned to one of the 64 touchbuttons on the SoundPad can be edited (start, stop, fade, level, pitch, etc). It is also possible to export a SoundPad project and import it in another M.A.R.S. or MT128 device.
SoundPad also features a module that allows a number of playlists to be created. A playlist is a sorted list of audio files (e.g Waves, MP3, MP2, AIF) that can be automatically chained. Each file can be anything from mono to an eight-channel piece of music, speech or special effects. Up to four playlists per project can be set up, with each playlist holding up to 256 audio files.
Eclipse GT is the world's first digital console to offer fully integrated multi-track recording via the unique M.A.R.S Multi-track Audio Recording System. It enables the user to mix up to 104 inputs simultaneously into 48 mix busses with the capacity to manage up to 320 inputs on the console using up to five remote audio racks.
The control surface is furnished with 48 faders and 48 fully configurable rotary knobs (spread over four layers). The concept is called SmartPanel and effectively gives the user 96 'faders'.
Eclipse GT is equally at home at FoH, monitors or in an OB van, offering such flexibility of configuration and personalisation.
www.lawo.com
(IT/JP)
Top Related Stories
Click here for the latest broadcast news stories.