Broadcast News
24/02/2014
Hitachi To Showcase New EFP Camera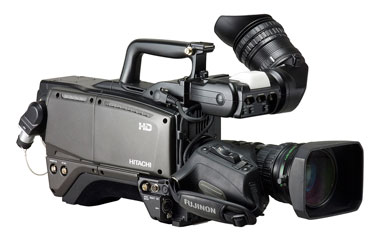 At Cabsat, Hitachi Kokusai Electric Turkey (Stand F7-20) will present the first middle eastern showcase of its new Z-HD6000 portable HDTV studio and EFP camera. Introduced last September, this strategic addition is the first 3MOS sensor HDTV camera in the company's highly affordable Z Series product line.
Building on Hitachi's heritage in the broadcast camera market, the Z-HD6000 offers a powerful combination of advanced functionality at a highly affordable price. This portable and dockable studio and EFP camera incorporates three 2/3-inch MOS 2.6 megapixel sensors with output signal format flexibility between 1080i/59.94i and 1080/50i with 1100TV lines resolution.
"The introduction of the Z-HD6000 represents a significant milestone in Hitachi's strategic roadmap for our broadcast camera business since this device combines totally uncompromised quality with the market's most aggressive pricing strategy," stated Cemal Yilmaz, general manager of Hitachi Kokusai Electric Turkey. "The camera meets all the needs of broadcasters and production facilities whilst its affordability brings it within the reach of educational and corporate users. Throughout the Middle East region we are experiencing considerable interest in this new camera."
Z-HD6000 – a new standard in performance and affordability
The two-piece dockable camera offers versatility and flexibility in a range of applications from studio to field-based and mobile video production. The camera docks to optical fibre, triax or RF wireless adaptor, providing a powerful combination of high light sensitivity and zero vertical smear. The camera's new 1080i MOS sensors enable F13@2000 lx (1080/50i) and outstanding HD Signal to Noise (SNR) levels of 60dB to provide clean and sharp HD pictures in the broadest range of ambient lighting conditions.
Other key features include:
2.1kg lightweight design aids on-shoulder portability
Outstanding 16w power consumption assists long battery life
Realtime lens aberration correction (RLAC) combined with versatile scene and lens features
Ultra-gamma for film contrasts
12-vector and linear matrix masking enables changing hue- and saturation levels
Skin tone masking, quick-focus and programmable switches
Choice of black/white or colour viewfinder displays
www.hitachi-kokusai.com.tr/
Top Related Stories
Click here for the latest broadcast news stories.