Broadcast News
10/05/2013
Gearhouse Broadcast & Hitachi Hit The Road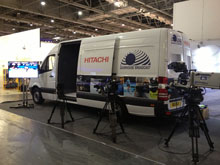 "Ever since we announced our partnership with Hitachi interest in these superb HDTV cameras has been exceptionally high. Now, through our national roadshow, we will provide camera users across the UK with an opportunity to see why we believe these cameras offer something new and fresh to the market," says Kevin Moorhouse, chief operating officer at Gearhouse Broadcast, at the launch of the company's first UK camera roadshow.
The team recently returned from Melbourne, Australia where they used exclusively Hitachi cameras to televise the Australian Open Tennis tournament. Specialists will be present at the roadshow to recount their experiences from this major 60+ camera two-week live sporting event.
The camera roadshow will utilise a bespoke outside broadcast (OB) vehicle designed and equipped to provide a working showcase of the new Hitachi broadcast cameras.
The roadshow venues include Earl's Court Conference Centre, London (9 May); Glasgow Science Centre (14 May); Manchester Media City (16 May); Cardiff Millennium Centre (21 May) and Bristol City's Ashton Gate football stadium (23 May).
Designed to showcase Hitachi's new high definition (HD) cameras, the OB vehicle contains the SK-HD 1200 high-end multi-format 1080p/3G production camera as well as the SK-HD 1500 HD Supermotion system camera and DK-H100 HDTV box camera.
The vehicle is fully equipped as a mobile camera rig and contains all the box lenses, tripod systems and even an EVS server system to enable potential customers to evaluate the technical performance of these broadcast system cameras.
The camera roadshow is being supported by Hitachi Kokusai Europe. The company regards the event as a great opportunity for UK broadcasters and production facilities to share the Hitachi camera experience.
"Last autumn, we announced as strategic marketing relationship with Gearhouse Broadcast and already we are seeing a good return in terms of heightened interest in our new camera family," commented Paddy Roache, Director and General Manager of Hitachi Kokusai Europe.
"New ventures, such as our relationship with Gearhouse Broadcast are fundamental to support our growing presence in UK and international broadcast markets. Our cameras are technically best in class and the ownership experience for Hitachi cameras is without parallel. We just need to extend that user experience. Gearhouse has invested in Hitachi and other companies should spend time considering why. This latest initiative with Gearhouse will put our cameras 'on the road' throughout the UK. Take the Hitachi challenge and try them out!"
Hitachi SKHD 1200 broadcast system camera
The SK-HD1200 camera provides delivers sharp HD images thanks to its 16 bit A/D converters and Hitachi's implementation of the latest digital processing technology.
Like the other cameras in the SK HD range, the SK-HD1200 provides high sensitivity and a horizontal resolution performance of 1100 TV lines.
The SK HD family represents versatile dockable HD TV cameras, which enable multiple configurations thanks to their fibre optic, digital Triax cable and wireless transmission adapters.
The SK HD range offers the choice of native 1080i or 720p CCD options as well as the new multi format 1080p SK HD1200. It also features a solid state HDTV recorder option utilising the Panasonic P2 format and a large lens studio adapter.
Hitachi SKHD 1500 Supermotion camera
Developed for super slo-motion applications and capable of 3X speed 1080-line HD operation, Hitachi has brought to market the first 6Gbps, fully digital optical transmission system in an HDTV production camera.
The camera's use of 6Gbps data transmission contrasts with competitive systems, which all use 10Gbps transmission. Hitachi's implementation of 6Gbps transmission technology extends the maximum cable length possible between camera head and control unit, by around 4000m.
The SK-HD1500 represents Hitachi's most accurate transport available for the 1080-line 150/180 images from the camera head to the camera control unit. All command audio and video signals to and from the camera are digitally transmitted and hence totally immune to EMI/ RFI interference.
Hitachi DK-H100 HDTV box camera
The DK-H100 is a multi-purpose HDTV box type POV camera that is ideal for applications such as graphics stand, point of view and remote observation. With a small lightweight head, the camera provides outstanding performance with its new 2.3 million pixels native 1080i 3-CCD. It offers sharper and cleaner HD images due to its 14-bit A/D converters and Hitachi's latest digital processing technology. The camera achieves outstanding high sensitivity and low vertical smear specifications.
www.gearhousebroadcast.com
(IT/CD)
Top Related Stories
Click here for the latest broadcast news stories.