Broadcast News
19/02/2014
Manfrotto Kick Starts Year With BVE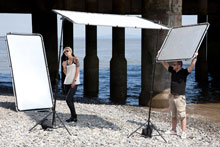 Manfrotto Distribution UK will kick-start 2014 by introducing an exciting range of new products from Manfrotto, Lastolite and Schneider at BVE this year.
Sharing stand H05 with VideoCom, Manfrotto Distribution UK, also part of the Vitec Group, will be presenting not only the latest range of Manfrotto Video supports and accessories but a collection of light modifier products from Lastolite and a new range of Schneider Full Frame Prime Lenses.
Amongst the wide range of video supports, the Manfrotto range will also include the new lighter weight SYMPLA DSLR shoulder rig and introduces a range of Spectra on-board LED lighting.
SYMPLA is a professional video rig system that extends and complements new cameras. It is ergonomic to fit and move with the body and provides safe, stable hand-held or shoulder-mounted footage, with the added benefit of being quickly fitted to a traditional support.
SYMPLA rigs utilise industry standard 15mm bars and accept third party Follow- Focus and Matte Box units in addition to Manfrotto's unique Flexible Mattebox. For Canon DSLRs Manfrotto produce an electronic clamp-on focus remote control.
The new Spectra LED lighting range has been designed for professional videographers shooting on location or studio, in an environment where natural lighting is not sufficient to get the desired video quality, therefore it is necessary to provide artificial continuous lighting with high colour rendition.
The light output at 5600K is of the highest quality and the light intensity can be easily regulated. Spectra ensures a really good colour rendition (CRI) and ensures no flicker or colour shift when dimming up or down the light level. Spectra LEDs can be
powered by AA cells, an optional mains unit or in the top two units by D-Tap from the camera.
In addition, some models have a tunable white option that allows the user to change the light temperature of the LED from cold white to warm white, providing a superior level of light quality with precise colour control.
Adding to the extended Manfrotto range, this year Manfrotto Distribution UK will for the first time present a range of light modifying products from Lastolite. The range will include; TriFlip 8:1 deluxe kit, a Trigrip reflector providing 8 in 1 surfaces for any situation; Skylite Rapid, a large diffuser/reflector in a collapsible aluminum frame providing lighting control in the most demanding situation; and Ezybalance, a double- sided pop up grey/white card which simplifies the complex technical issues surrounding exposure and colour correction when working in different lighting conditions.
Plus, Manfrotto Distribution UK have increased the range even further and will introduce a ­­new range of high quality (<4K) Xenon Full Frame prime lenses for large sensor DSLR and S35 video cameras from German manufacturer Schneider.
Chris Carr, Managing Director Manfrotto Distribution UK commented:­­ "We are really excited to be presenting an extended video product range at BVE this year. The team has a wealth of experience and they are looking forward to sharing these exciting new products."
For more information, speak to any of the Manfrotto Distribution UK team at BVE located at stand H05.
Read the article in the online edition of RFV
here
.
(IT/JP)
Top Related Stories
Click here for the latest broadcast news stories.