Broadcast News
17/02/2014
Accelerating The Transition To IP...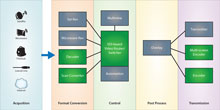 Broadcast television is entering a new era. Much like the move from analog to digital earlier this decade, broadcasters are experiencing another seismic shift as stations begin the transition to a completely IP-based infrastructure within the television station, writes Eric Chang, VP Marketing, TVU Networks.
The move to standardise over IP is a logical evolution for broadcasters, as IP infrastructure is already ubiquitous and large amounts of bandwidth are readily available throughout much of the world. Over the past few years, IP has already begun to play a significant role in content acquisition and distribution. However, despite the proliferation of IP, broadcast facilities are still built with legacy digital infrastructures, requiring costly equipment to encode, decode and transcode disparate analog, IP and digital sources to SDI so it can be ingested into the workflow and converted to a usable broadcast signal.
For a vast majority of broadcasters, one of the biggest challenges inherent in this internal device sprawl and network complexity is the challenge of sharing live video cost effectively in real time. Because of the complex infrastructure and myriad video sources, broadcast stations have been forced to implement a siloed operational approach, which is especially problematic for stations affiliated with a larger station group or broadcast network. Until now, sharing live video in real time between stations has required additional encoding equipment and expensive satellite time, and has slowed broadcasters' ability to fully leverage existing IP infrastructures.
Despite its initial focus on contribution of recorded and live news reports from the field, IP has evolved beyond being a supplement or alternative to traditional ENG to become a mainstay of content transport, switching and routing. It has the promise to break down the walls that created digital silos to improve workflow efficiencies inside the station. IP connectivity also extends production resources such as news wires, graphics libraries and scriptwriting tools to journalists in the field where they now can work remotely.
To deliver on the promise of IP, TVU Networks has developed TVU Grid to help broadcasters fully leverage the technology and simplify their ability to share live video in real-time in a simple and cost-effective manner.
TVU Grid is a dynamic IP-based video switching, routing and distribution solution that enables broadcasters to acquire live video from any source and distribute it to other broadcast stations over existing IP infrastructure.
From an applications point of view, TVU Grid improves the speed and efficiency of common typical broadcast workflow tasks. For example, Grid can act as a replacement for satellite uplinks to share content, eliminating a time-consuming and expensive process.
A station group equipped with TVU Grid can share news stories, promos, graphics and other content elements via IP without concern about distance or location.
In newsgathering applications, TVU Grid offers several benefits from a staffing and workflow point of view. For instance, TVU Grid can be used for remote monitoring and control of ENG resources deployed in the field. By working in conjunction with the TVUPack cellular uplink solution, TVU Grid operators are able to directly monitor and control live feeds without ever leaving the station. Similarly, the system can provide IP connectivity to monitor levels and other parameters remotely as well as a path for an IP-based return feed to crews in the field to monitor their live shots.
Today, IP-based technology is opening up new opportunities for broadcasters to share content in a collaborative workflow that operates in a more efficient manner.
It also helps broadcasters satisfy the growing appetite of their viewers for online content. Thanks to advancements in compression and encoding, the day when IP-based routing, switching and distribution of content becomes the norm within and among stations is fast approaching. IP-based solutions offer broadcasters a means to tap into greater workflow efficiencies within the newsroom and far beyond. Once seemingly insurmountable barriers, such as incompatible, proprietary formats and geographic distance are melting away as IP-based solutions are integrated into station operations. With its support of real-time IP switching, routing and content distribution TVU Grid is not merely an alternative to traditional baseband solutions, but a stepping stone to a future of station operations based upon IP technology.
www.tvupack.com
Read the article in the online edition of RFV
here
.
(IT/JP)
Top Related Stories
Click here for the latest broadcast news stories.