Broadcast News
14/01/2014
'Changes In Consumer Habits' Is Biggest Industry Challenge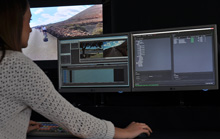 "Changes in consumer viewing habits and preferences" is the biggest challenge facing the industry, according to a survey by Marquis Media.
55% of industry senior executives who took part in the survey on their businesses' most pressing issues said "changes in consumer viewing habits" was their greatest challenge.
Some 32% named the "increasing cost of servicing and maintaining the expanding variety of consumer platforms", while only 3% ranked insourcing versus outsourcing as the number one issue.
25% of respondents cited "content distribution to multi platforms" as the most significant challenge facing their organisation, compared with 18% who selected "managing change in the broadcast IT world".
Regarding technology, "content management across multiple platforms" was the key issue, with 55% ranking this as their number one IT challenge.
15% named "end to end integration and standards from commissioning through production to consumer delivery", while 7% said "servicing regionalisation requirements - long-form and advertising" and a further 7% named content.
"The data from our survey, perhaps not surprisingly, clearly demonstrates that broadcasters' main concerns are with delivering the right product in the right format to viewers and this driving their business and operational thinking," said Andrew Ioannou, partner, Marquis Media Partners. "However, meeting demand is only one element of running a successful (and profitable) broadcast operation.
"CTOs, directors, VPs and other industry executives were asked to rank a series of statements in order of the degree of challenge faced by their organisation," explains Tom Hassall, marketing communications manager Marquis Media Partners.
"This revealed some important data and showed that responding to viewers' changing demands for content: whether that is the variety of material or distribution platform preferences, is broadcasters' main concern over other issues such as cost or resource management for example."
"The results of the survey reflect much of the work Marquis Media Partners has been doing with clients in the USA, Europe and Middle East," Mr Ioannou continued.
"Improving the efficiency of content workflow for multiple platforms and channel management projects have taken a higher profile over the last year. The partnership is focused on helping broadcasters to improve business efficiencies and assist with the strategy, planning and design of workflows and supporting technology to meet these challenges. Working in partnership with our broadcast clients we ensure that streamlined workflows are combined with the correct mix of content delivered over the right platforms, in this way it becomes straightforward to respond to the changing needs of viewing habits."
marquisbroadcast.com
(IT/JP)
Top Related Stories
Click here for the latest broadcast news stories.