Broadcast News
19/12/2013
SIS Develops At MediaCityUK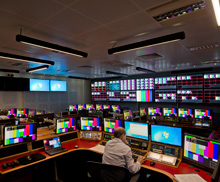 After 25 years of operating from its London Corsham Street base, the relocation of SIS' facilities to MediaCityUK in Salford was a major project for the company, says Dave Gill, Head of Technical Delivery.
In addition to the new corporate offices on the 10th floor of the Blue Tower, SIS also required new broadcast and engineering facilities built into the 8th and 9th floors of the building, and these were entirely designed, installed and commissioned by the SIS LIVE systems integration team.
The brief presented was for the installation of multiple production areas (galleries, studios, voice over booths, edit suites) and an MCR, plus supporting core infrastructure (router, comms system and 'glue' products) for parent company SIS. This project involved the design, installation, testing and commissioning of state-of-the-art production facilities that feature a 3G-capable infrastructure, HD abilities and inter-area fibre, installed to enable rapid deployment, reduce wiring times and to provide a degree of future proofing.
SIS LIVE aims to be involved from the start of any project, providing input on the best ways to meet business and technological needs, and selecting the most suitable and cost-effective solutions. It believes in ensuring that any technology used has longevity in order to maximise its lifespan and increase potential return on investment.
No piece of equipment is designed to work in solitude, and no production space is a standalone system; each must interconnect with other technologies and workflows, so it was a crucial to consider how this would work in practical terms. Particular attention was also paid to aesthetics and ergonomics - not only did the installations have to function technically, but they also had to provide suitable and comfortable working environments for those operating them.
Detailed project planning was paramount to the successful delivery of this systems integration solution and helped to minimise the impact on existing broadcast operations. An experienced SIS LIVE project manager was assigned for the lifespan of the project, practicing meticulous preparation and control, drawing on a pool of talented engineers and specialists as needed to suit each specific task.
Rather than a more traditional large core router and large multiviewer system, the design utilised a Miranda NVision hybrid broadcast router and a monitoring router coupled with smaller modular Miranda multiviewers.
The benefit of this approach was the ability for the monitoring router, coupled with the Optocore gigabit network on the fibre ring, to provide resilience to the main hybrid routing and MADI audio systems. Other headline equipment included; Miranda processing, Snell vision mixers, Calrec digital audio mixers, Clearcom communications, EVS servers, Ericsson encoding and Cisco multiplexing.
The 24-hour MCR was designed to monitor and control the SIS national media network as well as the SIS teleport at MediaCityUK, the largest of its kind in the north of England, comprising nine transmit-capable antennas ranging from 3.8m to 9.0m. Each of the four fully-equipped MCR operational 'pods' was designed to be staffed by either one or two people, with the main monitor wall driven from a 576 x 1152 monitoring router with 192 sources viewable at any one time.
Building a broadcast facility halfway up a shared tower block presented its own unique challenges; for example, getting over 120 racks up to the 8th floor in only one operational lift! Not only was this arduous but also doorways had to be altered slightly in order for the racks to be moved through the building on a bespoke designed dolly.
After the installation was completed extensive testing was conducted and, using the detailed insight into the intricacies of the system design, the project team were able to configure and test the setup end-to-end, ironing out any faults or snags and ensuring it delivered on all agreed requirements. SIS LIVE typically encourages clients to take an active role in commissioning, so that operational teams are able to run the system themselves by the time the facility is handed over. With handover complete the project was by no means over, with the project team providing extensive documentation, aftercare and support.
These resources in the Blue Tower are undergoing continual development, with new clients embedding their production operations within the SIS facilities. SIS' state-of-the-art MediaCityUK facility has become home to Betfred TV with the SIS LIVE projects team also designing, commissioning, and building their full production suite comprising a two-tier production gallery, dual sound gallery/voice-over booths and a four camera studio.
This development at MediaCityUK is a fine example of the systems integration and project skills within SIS LIVE. The facilities they have installed present the company with a fantastic opportunity to expand its business in the years ahead.
www.sislive.tv
Read the article in the online edition of RFV
here
.
(IT/JP)
Top Related Stories
Click here for the latest broadcast news stories.