Broadcast News
16/12/2013
BFI Restores Classic Christmas Ghost Story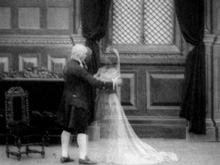 The earliest cinematic adaptation of a Christmas ghost story has been newly-restored by the British Film Institute (BFI), as part its GOTHIC: The Dark Heart Of Film project.
"The BFI today reveals that the public's appetite for Gothic horror at Christmas time has endured over centuries," the Institute said.
The Mistletoe Bough (1904) is a ghostly folk tale traditionally sung or recited at Christmas time, predating even Dickens' A Christmas Carol.
The earliest version of this original Christmas ghost story premiered at BFI Southbank's Nightmares Before Christmas event on Saturday 14 Dec, and is also available on the BFI Player - the Institute's new VOD platform.
Bryony Dixon, curator, Silent Film, BFI National Archive said: "The Mistletoe Bough (1904) is the earliest surviving version of this spooky Christmas ghost story, an appropriate seasonal treat for the BFI's current celebration of Gothic cinema. 109 years since it was made, this charming film still has the power to inspire a chill with its rendering of the legend of the Mistletoe Bough and its tragic bride."
The BFI's synopsis of the film is as follows:
"Wearing 18th century costume, Lord Lovell and his bride celebrate their wedding. The bride suggests a game of hide-and-seek; in another room she hides in an old chest. The bridegroom, her father, and the wedding guests search for her. They find her handkerchief beside the chest, which is locked, but no other clue, and they eventually abandon the search. Thirty years later Lord Lovell, now grown old, sees the ghost of his lost bride leaving the chest. Horror-stricken, he rushes to the room, prises open the chest, and finds her skeleton."
BFI PLAYER The Mistletoe Bough is available to view on the BFI Player from Friday 13 December with a new score by Pete Wiggs of St. Etienne.
www.bfi.org.uk/gothic
(IT/JP)
Top Related Stories
Click here for the latest broadcast news stories.