Broadcast News
14/10/2013
BFI Launches Gothic Season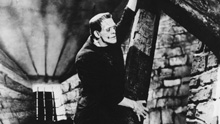 The BFI Film Audience Network (BFI FAN) has launched a celebration of macabre movies entitled 'Gothic: the dark heart of film'.
Running from October until February next year, the season is part of the biggest BFI project ever.
Movie monsters like witches, vampires, werewolves and spectres will be unleashed upon film audiences across Northern Ireland, Scotland, Wales and England.
BFI FAN will enable film fans across the nation to experience a range of screenings, education, community projects and archive events.
Highlights in every part of the UK include:
Wales Goes Dark: Abertoir Horror Film Festival: UK premiere of Welsh film The Darkest Day, Aberystwyth (19 Oct), plus Abertoir partnering on festivals at Theatr Clwyd Cymru, Gwyn Hall, The Torch Milford Haven and more to be added
Cardiff: Darkened Rooms: Dracula screens at Cardiff Castle (29 Oct - SOLD OUT), (5 Nov - NOW ON SALE)
Newport: Night of the Demon at Tredegar House, Newport (30 Oct)
Leeds: Gothic Film Festival classic Gothic screenings and events in the beautiful ruins of Kirkstall Abbey for Hallowe'en weekend (31 Oct – 3 Nov)
Belfast: Burn Baby, Burn! Witchcraft on film season at the Queen's Film Theatre (1 – 5 Nov)
London: The Dia de Los Muertos (Day of the Dead) Experience! brings classic Mexican horror films, live music and immersive theatre to the Rich Mix (1 & 2 Nov)
Hereford: The Elephant Man: A Freakish History in the Black Lion Pub's attic with
introduction and post-film discussion led by Gothic horror expert, Prof. Ian Conrich (2 Nov)
Glasgow, Edinburgh & Dundee: Häxan: Witchcraft Through the Ages with a new score in Glasgow Film Theatre, Filmhouse Edinburgh and Dundee Contemporary Arts
Derry-Londonderry: The Cabinet of Dr Caligari, open-air screening under the city walls (15 Nov)
Brighton: a complete Svankmajer retrospective (17 Nov – 01 Dec) at Cinecity, Brighton Film Festival
Bristol: The Corridor Sessions present The Shining at Watershed (29 Nov)
Manchester: a British Gothic Double Bill at Cornerhouse (Sat 26 Oct)
"Thanks to the allied forces of BFI FAN, new collaborations are opening up a dazzling array of special events, screenings, lectures and musical accompaniments offering unprecedented riches for audiences with special guests, education events and more," a statement from the BFI said.
"Screenings in a gothic library, haunted houses, a bombed out church, late nights and children's events are among the delights in store."
Heather Stewart, Creative Director, BFI said: "We are delighted to have nine such dedicated partners in the new BFI Film Audience Network (BFI FAN) to reach audiences in every corner of the UK. BFI FAN gets off to a spine-chilling start with extraordinary GOTHIC film experiences that will thrill from Ballymena to Brighton, Much Marcle to Manchester. With terror guaranteed across the land, this will be a Hallowe'en like never before."
Across the GOTHIC project some of the greatest classics of GOTHIC cinema are being re-released, with Herzog's Nosferatu the Vampyr (1979) alongside Murnau's seminal and original Nosferatu (1922) in selected cinemas across the UK.
Jack Clayton's haunting masterpiece The Innocents (1961) will also have a major re-release (Dec) and a new restoration of Jean Cocteau's La Belle et la Bête (1946) will re-released (Jan 2014). Many GOTHIC titles will be available on the BFI's newly launched video on demand service BFI Player with its own dedicated GOTHIC channel.
For more info, visit
www.bfi.org.uk/gothic
.
(IT/JP)
Top Related Stories
Click here for the latest broadcast news stories.