Broadcast News
12/12/2013
Call For Film Hub London Membership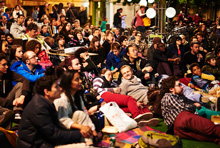 Film London is calling for membership for Film Hub London.
A new network of film exhibitors, the Hub aims to "expand the film culture offer in the capital and boost audiences," as part of the BFI Film Audience Network (FAN).
Members can access new funds, with other opportunities rolled out in the New Year.
As the Film Hub Lead Organisation for Greater London, Film London will oversee a four-year project and invest £200,000 a year of Lottery funding through BFI FAN for audience development in the capital, with a focus outside central London.
Membership is free and open to exhibitors in the capital, from commercial cinema chains, through to film clubs and societies.
"Through a diverse membership, Film Hub London aims to unite the exhibition sector, to drive fresh thinking and industry collaboration to ensure audiences across London can discover film in all its diversity," a statement from Film London said.
"Building on Film London's 10 years of experience in facilitating and supporting a range of inclusive and engaging London exhibition ventures, Film Hub London will encourage small-scale exhibitors to take more risks and large-scale exhibitors to expand their scope."
The Hub has secured a partnership with Vue Cinemas to support new community led film activity.
Adrian Wootton, Chief Executive of Film London and the British Film Commission, said: "We believe this is a creative and innovative opportunity for audiences, and thanks to the BFI it is an area which is receiving more investment than ever before. Film Hub London offers formal and long term investment to the capital's exhibition sector, but our success depends on the strength of our membership. I am confident, that collectively we can build a bright future for film exhibition in the capital – for all exhibitors, for all venues, for all audiences."
Kate Gerova, Creative Director of Birds Eye View Film Festival and Member of Film Hub London's Advisory Panel, said: "I'm delighted to be representing the exhibition sector on the Advisory Panel. It is encouraging to see such an emphasis on exhibition and audiences from the BFI at a national level and I'm honoured to be involved in London's Hub. With Film London, it is our ambition to ensure that the films available represent audiences and we develop those audiences. I'm keen to ensure we have an impact in all corners of London."
www.filmlondon.org.uk
(IT)
Top Related Stories
Click here for the latest broadcast news stories.