Broadcast News
05/11/2013
Film London Appoints Hub Panel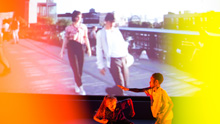 Film London has appointed members to its Film Hub London Advisory Panel to help ensure the capital's film exhibition sector remains open and accessible to the public.
A range of exhibitors – ranging from multiplexes and cultural institutions to film clubs and festivals – have been recruited for their experience and expertise to guide the strategy for Film Hub London, a four-year project, which is part of the nationwide BFI Film Audience Network (FAN).
The Hub will provide members with training as well as a range of initiatives to outreach to new audiences or champion specialised cinema. It will also work to capitalise on opportunities for promotion and achieve media exposure that would not be possible working individually.
Traditional cinema exhibitors on the Advisory Panel include Stuart Boreman from multiplex chain Vue Entertainment, Clare Binns from Picturehouse Cinemas and Tyrone Walker-Hebborn, from the independent cinema Genesis.
Wider cultural venues are represented with Lesley Jones from the Barbican Centre and Clare Stewart from BFI Southbank and the BFI London Film Festival.
Kate Gerova from Bird's Eye View represents London's film festivals, while Jim Dummett from the Lost Picture Show, Pricilla Igwe from The New Black and Rachel Wang from Chocolate Films represent groups that deliver community based film activity throughout the year including film clubs, festivals and innovative educational activity.
The Mayor of London will also be represented by Head of Culture, Justine Simons.
Also on the Panel will be a representative from Film London's Audience Development Sub-Committee, alternating between Soda Pictures' Edward Fletcher or Target Media's Robert Wilkerson, as well as Anna Kime, Film London's Acting Head of Film Culture.
"The Advisory Panel will be responsible for representing the interests of Film Hub London members and agreeing annual aims and objectives for the Hub, including curatorial ambitions," a statement said.
"The group will discuss and make recommendations on activity and initiatives, while also considering how to the Hub can assist broader sector issues. Through Film Hub London's Advisory Panel and membership, it is bringing together a range of exhibitors to encourage collaboration and better capitalise on opportunities to better service London's existing and potential film audience."
Adrian Wootton, Chief Executive of Film London and the British Film Commission, who will Chair the Panel said: "Film Hub London is an exciting opportunity for us help grow the cultural cinema offer across the whole of London, as part of the nationwide BFI Film Audience Network. Our ambition is to ensure as many Londoners as possible can engage with film in all its diversity, which we hope to achieve through the Hub and the excellent and experienced representatives on the Advisory Panel. I thank the Panel for their commitment and look forward to working with them to deliver something truly special for Greater London."
Film Hub London membership is free and open to anyone working in London's exhibition including cinemas, film festivals, film clubs, community groups and local authorities.
www.filmlondon.org.uk/filmhub
(IT/JP)
Top Related Stories
Click here for the latest broadcast news stories.