Broadcast News
12/12/2013
LiveU Unveils Plans For 2014...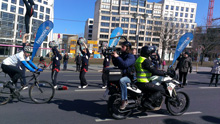 LiveU has unveiled the projects for 2014 that will see the company provide live video support for high-profile sporting events around the world.
The company will support the Winter Olympics early in the year at Sochi, Russia, numerous US Collegiate Championships, The Super Bowl, the 2014 FIFA World Cup in Brazil, and additional events throughout the year.
Samuel Wasserman, LiveU's CEO, said: "Right from the outset when we introduced our cellular uplink technology at the 2008 Beijing Olympics, our technology provided a new level of opportunity and creativity that sports broadcasters and online outlets embraced with open arms. For the 2010 South Africa World Cup we deployed over three dozen cellular bonding units. "The level of deployment at the 2012 London Olympics was truly spectacular with over 100 units on the ground during the games. We expect even bigger numbers at the 2014 Brazil World Cup."
LiveU's solutions extend from the LU70, through the recently launched LU500 small backpack, to the LU-Smart mobile app and LU-Lite software-based connectivity.
Solutions are managed using the LiveU Central cloud-based management and control platform.
At the 2014 World Cup in Brazil, LiveU will support hundreds of networks, stations and online media from over 30 participating countries.
At Super Bowl XLVIII, LiveU will support networks involved in covering the game, as well as teams directly. During Super Bowl XLVII in New Orleans in 2013, over 30 LiveU units were in use for coverage of Media Day from the field, pre-game and post-game interviews and shows by a variety of networks, stations, online media, and the participating teams.
LiveU will also help power multiple collegiate championships across the US in late 2013 and throughout 2014 on behalf of The American Athletics Conference, West Coast Conference, Big Sky, Mountain West, Big East, and others.
www.liveu.tv
(IT/JP)
Top Related Stories
Click here for the latest broadcast news stories.