Broadcast News
12/12/2013
Panasonic Unveils Thermal Surveillance Cameras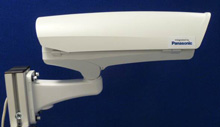 Panasonic has revealed its new integrated thermal surveillance camera solutions for day and night surveillance.
The announcement comes from the European R&D and Engineering Centre as the first thermal imaging cameras in Panasonic's surveillance and security solutions.
The thermal cameras allow night time vision without illumination, as well as complementing Panasonic vision cameras during daytime.
Panasonic's latest surveillance output offers the following solutions:
Ability to see people and vehicles through foliage and smoke
Easily identify the presence of people who try to blend into the scenery through camouflage
Detect person at up to 1.5km (640x480) and 1km (384x288)
Detect vehicles at up to 4km (640x480) and 3km (384x288)
Inbuilt motion detection enables the creation of effective virtual fences or areas to be monitored for intrusion with significantly reduced false triggers compared to vision cameras
Enable clearer and easier monitoring of scenes by security personnel for people and vehicle movement
Panasonic thermal cameras deploy an uncooled silicon microbolometer thermal detector available in a choice of 384x288 and 640x480 resolutions, with sensor frequency rates of below 9Hz or 25Hz and above.
The 384x288 sensor has a thermal sensitivity of 50mK, whilst the 640x480 sensor has a thermal sensitivity of 70mK.
A spectral sensitivity rating of 8μm to 14μm enables detailed clarity.
Connectivity is covered with two H.264 and one JPEG network interfaces and smart features such as Motion Adaptive Interlace/Progressive Conversion enable clear viewing of moving scenes.
Video Motion Detection can also be programmed to trigger alarms along with Command Alarm and Video Loss, depending on specific requirements.
Panasonic have also ensured ONVIF compliancy and the thermal camera solution is set up for H.264 transmission by HTTP protocol with iPad, iPhone, iPod touch and Android™ all supported.
panasonic.net
(IT/JP)
Top Related Stories
Click here for the latest broadcast news stories.