Broadcast News
07/06/2013
Panasonic Launches Vision Module Cameras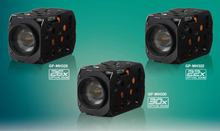 Panasonic has announced a new range of block module camera equipment suitable for many applications such as medical, industrial, live science, broadcast and security.
Panasonic has created a range of new block module zoom cameras including the GP-MH322, GP-MH326 and GP-MH330, which range in their optical zoom ratio from 22x to 30x.
The new range of single chip Full-HD Module cameras deliver a native resolution of up to 1080p, plus feature multi-format capability in compact and light weight camera modules.
The new modules also feature dehazing technology and the ability to customise the true day/night switching point according to the surrounding environment.
The GP-MH322/326/330 Series cameras have up to 128x wide dynamic range to ensure images are reproduced accurately when subjects and scenes have both dark and bright areas.
Customer Preset modes are combined with up to 30x optical zoom as well as other functions such as mirror image and vertical / horizontal flip functions plus Video Motion Detection and a Privacy function.
business.panasonic.co.uk
(IT/MH)
Top Related Stories
Click here for the latest broadcast news stories.