Broadcast News
11/12/2013
Matrox Prepares For BVE 2014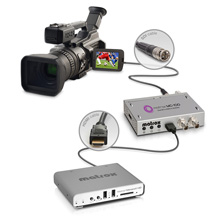 With registration opened for BVE 2014 at the Excel London, February 25-27, Matrox Video has announced its lineup of video streaming and recording appliances and live production streaming systems.
Monarch HD is designed for professional video producers who need to stream a live event and record a mastering-quality version for post-event editing simultaneously.
From any HDMI input source such as a camera or switcher, Matrox Monarch HD generates an H.264-encoded stream compliant with RTSP or RTMP protocol. While encoding the video at bitrates suitable for live streaming, Matrox Monarch HD simultaneously records a high-quality MP4 or MOV file to an SD card, a USB drive, or a network-mapped drive. Matrox Monarch HD is remotely controlled using any computer or mobile device with a web browser.
Matrox VS4 is a quad HD capture and ISO recording card for Telestream Wirecast for Windows live production streaming software. In a single PCIe slot, Matrox VS4 provides up to four independent HD inputs with up to eight embedded audio channels per source.
VS4Recorder is a new standalone multi-camera recording app bundled with Matrox VS4 quad HD capture cards.
VS4Recorder enables control over capture of the four inputs connected to the VS4 to create files for use with popular editing apps from Adobe, Apple and Avid and for archiving. AVI files can be created using the Matrox MPEG 2 I-Frame codec. MOV QuickTime files can be created using DV, DVCPRO, DVCPRO50 and DVCPRO HD.
Matrox Mojito 4K is a quad 3G-SDI, 4K video card for use with Adobe Creative Cloud professional video editing tools on Windows platforms. Matrox Mojito 4K lets post-production professionals monitor every pixel of every 4K frame in real time plus render and export projects in full 4K.
Matrox MicroQuad is a four-channel SDI-to-HDMI multiviewer for 3G/HD/SD.
It lets broadcasters and A/V professionals use an affordable HDMI display to view up to four SDI video signals and show or hide labels and VU meters. MicroQuad can be controlled using buttons on the unit itself or from a distance using a Windows-based app.
Matrox Convert™ DVI Plus is a genlockable HD-SDI scan converter that lets broadcasters incorporate content from computers, iPads and iPhones into broadcast programs.
The region-of-interest feature lets the user define any region of any size from the computer display and output content at the required broadcast resolution. If the selected area doesn't match the output resolution, Matrox Convert DVI Plus provides horizontal and vertical upscaling and downscaling.
The unit can be genlocked to an SD analog black burst (bi-level) or HD tri-level genlock source. Proc amp controls on the output let the user adjust the hue, chroma, saturation, and brightness levels. In addition, Matrox Convert DVI Plus can be used to drive projectors and large displays at live events.
www.matrox.com/video
(IT/JP)
Top Related Stories
Click here for the latest broadcast news stories.