Broadcast News
10/12/2013
Input Media Archives With Project Parking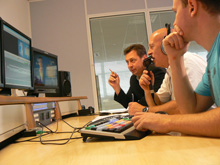 Last year, Marquis Broadcast supplied Input Media, one of Europe's leading sports production companies, with its archive and restore solution, Project Parking, for a data migration project at the west London broadcast and production centre.
Input Media produces programming for the likes of UEFA, The FA, The French Tennis Federation and the BBC. The company selected Project Parking for its goal of migrating long-term content onto its new Unity ISIS system.
The solution offers an archive and restore service by creating a complete copy of any Avid project onto any storage device.
Avid users can then archive complete projects between systems within the same facility or between sites. Project Parking enables editors to analyse all the projects and media on their edit storage by size, project, location, age, duplicated or orphaned files.
It can then archive files to second tier storage, or delete unused media, take snapshots of versions of projects, or move from one location to another.
Nick Symes, director of technology, Input Media explains: "Project Parking enabled a straight forward migration of media from one physical system to another. We upgraded our Unity ISIS and needed to move all the content from the old system to the new one.
"We used Project Parking to back up several terabytes of content onto spinning disks over a period of 10 days. We were then able to transfer the content onto the new ISIS. It gave us a chance to have a good clear out too.
"One of the benefits of the solution is that it saves time by eliminating the need to search for media across different workspaces," continues Symes. "Project Parking helped us to make an inventory of Avid projects and their assets, spanning across multiple workspaces on our existing ISIS system before the migration and identified which content needed to be moved across to the new system.
"Project Parking achieves this by taking an Avid project and collating a complete list of all the media that that project has used, whether in a timeline, or simply in a bin and then searches all the attached workspaces for that media," confirms Symes.
"At the end of this analysis, Project Parking told us whether all the media is on line, or if not, the name of the workspace where it was last located. Project Parking then goes on to copy all the project files and all the media that it references to a new location, checking all the files (with MD5 checksums) to ensure they are faithful copies.
"A year on, we are now using Project Parking to back up one of our main post production client's projects from our ISIS. The company is producing World Cup programming for delivery next year, so this media can tend to remain on the ISIS for long periods of time and so in order to save space, we needed a mechanism to move it off our more expensive edit storage and back as required.
"Project Parking enables us to do this. Moving large files always takes time so we schedule the big jobs and leave it running overnight. We are planning to use Project Parking to back-up other projects in the near future too."
www.marquisbroadcast.com/project-parking.html
(IT/JP)
Top Related Stories
Click here for the latest broadcast news stories.