Broadcast News
06/12/2013
TriCaster 40 Selected For Caribbean News Network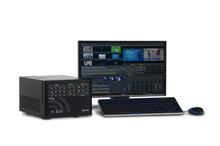 WTS Broadcast has supplied a NewTek TriCaster 40 to a new start-up channel called the Caribbean News Network (CANN TV).
CANN TV is established by Kennie Williamson, who has been developing the brand online since 2012 with a goal to begin broadcasting on Sky in early 2014.
The channel aims to fill the gap left by the discontinuation of the BBC's Caribbean Service that was reporting news and current affairs from the islands from 1988, until its closure in 2011.
The TriCaster 40 offers features designed for delivering professional, live, multi-camera programmes to a television and online audience.
Kennie Williamson, founder of the Caribbean News Network, said: "The TriCaster 40 is ideal for start-up businesses like mine. I am able to deliver programmes to our audience with the independence of producing content in-house, so I don't have to work around anyone else's schedule.
"Its pre-loaded graphics, such as the virtual studios, are perfect for use in our news programmes and the portability of the TriCaster also gives me the flexibility to broadcast from locations away from the news studio. There is a strong demand for news from the Caribbean islands, and I want to support the link between the UK and Caribbean communities in hope that the channel will become a voice for them.
"The TriCaster enables me to deliver news content to the Caribbean community, involving them in current and relevant debates surrounding the islands and providing an opportunity to discuss various topics."
Duncan Payne, Sales manager of WTS Broadcast, added:"TriCaster has established itself as the go-to product in its field. WTS Broadcast has held three sold-out training days over the past month educating clients on the full TriCaster range, of which the TriCaster40 is the entry-level unit. There is a TriCaster for every requirement and every budget."
CANN TV is due to go to air on Sky in February 2014.
www.wtsbroadcast.com
(IT/JP)
Top Related Stories
Click here for the latest broadcast news stories.