Broadcast News
06/12/2013
British Film Commission Welcomes Chancellor's Statement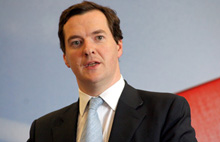 The British Film Commission has praised the enhancements to the UK's Film Tax Relief announced by the Chancellor of the Exchequer the Autumn Statement.
George Osborne announced a lowering of the minimum spend requirement from 25% to 10% and increasing the value of the relief to 25% on the first £20m of qualifying expenditure for large budget features.
In addition, the UK will seek State Aid clearance to increase the rate of relief to 25% for all qualifying expenditure in 2015.
Adrian Wootton, Chief Executive of the British Film Commission and Film London, said: "The UK is home to world-class film-making talent and expertise which help drive the industry forward, as demonstrated recently by the UK-produced and critically-acclaimed Gravity. However, in order to continue to attract business to the UK in a fiercely competitive global marketplace, our industry must be underpinned by effective fiscal incentives.
"The tax relief was a game changer when introduced in 2007 and today's announcement ensures we can continue to grow our industry, boosting the UK economy and creating British jobs; it will also encourage the production of more culturally British projects."
Sarah Mackey, CEO of UK Screen said: "The UK has an excellent reputation for film-making and the industry is rightly recognised by Government as an important source of growth and job creation. We welcome the Chancellor's ongoing support and the changes announced today which will enable more film productions to access the infrastructure and talent in the UK – driving further investment, skills development and job creation in the industry."
Alex Hope, MD of visual effects company Double Negative, and UK Screen Board Member, said: "We're delighted with the adjustment to film tax relief announced by the Chancellor in today's budget. Digital technologies, and in particular, visual effects, have transformed the filmmaking process in recent years, with VFX often now accounting for between 10 and 50% of a film's overall budget.
"In the last 15 years the UK's VFX businesses have made significant investment in infrastructure, skills and training and the UK has established itself as a multi-award winning, global centre of excellence for VFX. This commitment has attracted new production business to our shores and
benefitted the UK Film Industry as a whole.
"Until today's announcement, however, the structure of the tax relief, whilst attracting production activity to the UK, has resulted in some films shooting in the UK but taking vfx work overseas. Today's measures target productions that would not otherwise qualify for tax relief and incentivise them to bring VFX or production business to the UK, representing a significant growth opportunity for the UK film industry."
www.britishfilmcommission.org.uk
(IT/JP)
Top Related Stories
Click here for the latest broadcast news stories.