Broadcast News
28/11/2013
JVC Introduces The GY-HM650 Camcorder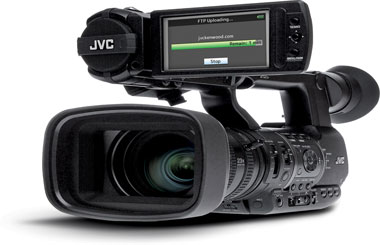 JVC's GY-HM650 handheld camcorder makes live video streaming possible. With dual codecs and built-in FTP and Wi-Fi connectivity, getting your story on air becomes fast and simple.
And with free GY-HM600 Series training courses from JVC, you'll have all the information you need to create better content.
The latest firmware update for the GY-HM650 camcorder brings live streaming capabilities to this already feature-rich model. Ideal for news, sport, production and web applications, this innovative feature allows footage to be streamed live at the same time as recording full HD to the SDHC/SDXC memory card. And as the camcorder is upgradeable, even if you bought a GY-HM650 when they were first released, you can upgrade the firmware via the JVC website, providing the latest streaming functionality together with any future updates for free.
The GY-HM650 is equipped with three full-HD 1/3-inch 12-bit CMOS sensors, offering exceptional light sensitivity of F12 at 2000 lux, together with a high signal-to-noise ratio for superior clarity and vivid colour reproduction. A newly-developed integrated Fujinon wide angle 23x autofocus zoom lens delivers excellent low-light performance and powerful magnification, while the optical image stabiliser ensures HD images are sharp and stable.
When equipped with Wi-Fi, 4G or 3G connectivity via USB, the GY-HM650 can stream live HD video transmissions via a network connection in real time while simultaneously recording full HD files to SDHC or SDXC cards. These files are recorded as ready-to-edit .MOV and XDCAM EXTM compatible MP4 or MXF files with rich, descriptive metadata. All this is possible thanks to two independent encoders, as well as built-in FTP and Wi-Fi connectivity, which allows the live transmission or file transfers in the background as the camera operator continues to record footage using their normal workflow. For the camera operator, this live streaming facility means it is possible to transmit urgent news directly, then follow this up with pristine quality HD footage to the broadcast station via FTP at a later time. From high-quality HD video to light, web-friendly proxy video data, delivering footage back to the studio has never been faster or easier.
Free one-day training course
We are launching a new series of free one-day training courses, worth £175, for GY-HM600 and GY-HM650 customers. The first session will be held at JVC's London headquarters on 11th December 2013 and is open to all recent purchasers of our GY-HM600 or GY-HM650 cameras. Depending on demand, we will hold additional dates at the start of next year, rolling the training out around the regions.
The training course will be hosted by Kevin Cook, the award-winning videographer, author, journalist and a long-time member of the Institute of Videography. The course aims to help you get the most from your new purchase, and will cover a basic overview of camera functionality, recording media and formats, camera setups, audio, recording and workflow, along with creative examples and technical tips to help you create better content.
www.jvcpro.co.uk/600training
Top Related Stories
Click here for the latest broadcast news stories.