Broadcast News
14/11/2013
Sony Announces Latest OLED Additions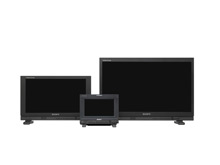 Sony has announced news of its latest additions to the professional OLED monitors series.
The new models (PVM-A250, 25" and PVM-A170, 17") have achieved approximately 40% reductions in depth and weight compared to previous Sony models.
To achieve this, Sony re-engineered the design, from the chassis to the OLED panel module's structure to the signal processing board, material and parts.
If 50 of the new monitors were loaded on a conventional truck, according to Sony, total weight is reduced by about 180 kg.
Power consumption is also reduced by 9% in the PVM-A250 and 14% in the PVM-A170 monitor compared to previous Sony models.
"Higher resolution content creation – 4K and beyond – requires monitors with larger screen sizes for accurate colour evaluation on site," said Daniel Dubreuil, senior product marketing manager, professional monitors, Sony Europe.
"But bigger monitors are harder to carry and take up more space. These new models have the screen size needed for critical evaluation, with a thinner and lighter design that's perfect for live broadcast and outdoor shooting. They even have a handle for easy carrying."
Other operational improvements include an I/P conversion system that delivers automatically optimised signal processing according to input signals, with low latency (less than 0.5 field). Users can also upgrade the monitors via ethernet cable.
Sony's professional TRIMASTER EL™ OLED monitor line has expanded from master monitors to picture monitors since its first launch in 2011.
Sony's TRIMASTER EL monitors have been well received by critical users. resulting in total global shipments of more than 25,000 units to date.
Visitors to the SATIS exhibition in Paris will get the chance to see the PVM-A170 and PVM-A250 for the first time in Europe. The event will take place between 19-21 November, with Sony exhibiting at stand 19, Halle Freyssinet.
The new monitors will be available in January, 2014.
www.pro.sony.eu
(IT/JP)
Top Related Stories
Click here for the latest broadcast news stories.