Broadcast News
11/11/2013
SIS Live Captures MCoy's 4,000th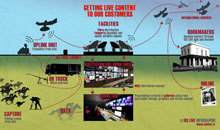 SIS Live provided coverage for last week's Towcester race as AP 'Tony' McCoy clinched his record-breaking 4,000th win.
39-year-old McCoy, who passed the previous record of 1699 career wins 11 years ago, was filmed crossing the finishing line in the 15:10 race on his horse Mountain Tunes.
SIS LIVE was there providing quality coverage for shops and At The Races, and made sure McCoy's achievement was captured in full.
The company's HD1 outside broadcast vehicle was deployed to produce coverage of this momentous event, with eight race cameras located at various points around the track and two extras rigged to follow the winners into the paddock.
A specially installed super slow motion camera on the finish line caught the historic win and an RF presentation camera captured the celebrations of McCoy and his team.
In addition to the race coverage on fibre optic cables, one of SIS LIVE's satellite uplink units - SIS 30 - was also on site with three camera operators providing additional presentation services for William Hill and ATR.
A dedicated SIS LIVE engineer handled the uplinking of signals from site to the company's teleport and MCR facility at Milton Keynes. From here race and presentation feeds were downlinked, routed into the SIS production studios and used to create programming which was then transmitted via satellite to licensed betting offices all over the world.
McCoy, having inched closer to the 4,000 mark over the last week, needed just one winner from two rides at Towcester – and he came home on Mountain Tunes in front of a bumper crowd at the Northamptonshire track.
Afterwards, McCoy said: "It was just amazing, it couldn't have worked out any better. Racing people are fantastic; they are so pleased for me."
David Meynell, Managing Director, SIS LIVE said: "SIS LIVE covers thousands of races every year but this one was quite special and really captured the attention of sports fans across the UK. Our racing OB teams have unparalleled experience of covering racing in the UK and it was great that there was so much interest in the material they produced.
"We decided to use a super Slo-mo, which added to the drama of the day and are now considering making this a standard offering for all of our racing coverage. We continue to innovate for UK racing and look forward to the next milestone, which I am sure our teams will deliver to their usual exceptional standards."
www.sislive.tv
(IT/JP)
Top Related Stories
Click here for the latest broadcast news stories.