Broadcast News
31/10/2013
OConnor 2575 Selected For 'L'heure bleue'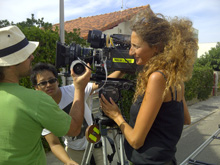 Italian cinematographer Maura Morales Bergmann depended on the versatile 2575 fluid head by OConnor to shoot the French short film L'heure bleue by director Annarita Zambarano last year.
"Filming L'heure bleue was a great challenge for me, as we only had about two hours per day to film," said Morales Bergmann, describing the conditions on the set in France.
"We filmed two scenes directly in front of a picturesque twilight – a gorgeous, yet brief background. To take advantage of every moment during filming, we tried out different settings in the afternoon. With the OConnor 2575, we were then able to reproduce the nine camera settings we had previously selected within only one and a half hours."
The 2575 fluid head by OConnor provides exactly reproducible counterbalance settings, enabled by the combination of the numerical display and the patented sinusoidal counterbalance system and set with the help of a crank knob.
"I have worked with OConnor equipment for a long time. The fluid heads are just perfect for me," explains Morales Bergmann.
"I love the extremely smooth pans with my 2575. They enabled me to capture important light reflexes and lighting conditions for the short film without being pressed for time."
L'heure bleue is about Charlotte (13) and Marc (16), who spend the summer with their parents at a campsite at Contis-Plage in France. During the blue hour, both of them have their own, very personal experiences with love. The short film was one of the seven works chosen for broadcast in the "Nuit Aquitaines" series, a project supported by the Aquitaine region in France and organized by TV7.
Morales Bergmann sums up her experience: "With the OConnor 2575 and the ARRI Alexa, I was able to precisely realise everything I had imagined. The 2575 is one of the best fluid heads I have ever used."
www.ocon.com
(IT/CD)
Top Related Stories
Click here for the latest broadcast news stories.