Broadcast News
30/10/2013
IFI Announces French Film Festival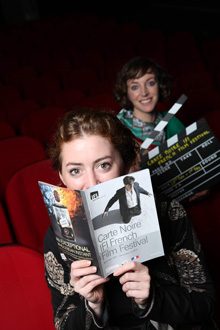 The Irish Film Institute (IFI) has announced the details for this year's Carte Noire IFI French Film Festival.
Twelve days of Gallic cinema will be screened in Dublin, including 21 premieres of new French films, director's seasons, a classic film selection and directorial debuts.
This year's winner of the 2013 Cannes Palme d'Or, 'Blue is the Warmest Colour', will be accompanied by a special programme celebrating the work of its director Abdellatif Kechiche.
The festival also includes a line up of special guests presenting and discussing their work including actress Emmanuelle Devos and directors Jérôme Bonnell, Emmanuelle Bercot, John Lalor, Nicolas Philibert (director of 2002 international hit Être et Avoir) and visionary filmmaker Arnaud Desplechin whose work will be celebrated with a special focus and who will also lead a masterclass.
Festival Director Marie-Pierre Richard said: "The search for identity is the unifying theme in this year's Festival, explored through many exciting and unique voices in French cinema."
The Gala Opening film, telling the story of an intriguing brief encounter, is Just a Sigh. A Parisian actress Alix (a luminous Emmanuelle Devos) makes an unexpected connection with an English-speaking stranger (Gabriel Byrne). The screening will include a Q+A with Festival guests, actress Emmanuelle Devos and director Jérôme Bonnell, and will be followed by a reception.
Arnaud Desplechin's new film Jimmy P. (Psychotherapy of a Plains Indian) sees Benicio Del Toro as Jimmy Picard, a Blackfoot Indian hospitalised in Kansas suffering from war-time trauma. Desplechin will take part in a post-screening Q&A and will also take part in a Q+A after 2008's A Christmas Tale, part of a focus on his career to date at the IFI running throughout November.
Blue is the Warmest Colour was awarded this year's Palme d'Or in a unanimous decision from the jury and the prize was jointly awarded to Tunisian-French director Abdellatif Kechiche and the two stars of the film Adèle Exarchopoulos and Léa Seydoux.
Festival guest, documentary maker Nicolas Philibert, shot to fame in 2002 with Être et Avoir, his evocation of a small rural French school. With La Maison de la radio he returns, this time taking his camera through the corridors of state broadcasting company Radio France. Philibert will discuss La Maison de la radio in a post screening Q&A.
Another documentary highlight is The Last of the Unjust, Claude Lanzmann's work that focuses on a series of interviews Lanzmann conducted in 1975 with Benjamin Murmelstein, a contentious figure who was tried and acquitted for Nazi collaboration due to his role as an 'elder of the Jews' at Thereseinstadt Ghetto/Concentration Camp.
This year's Festival's Classic Film Programme features Jacques Demy's tender and lyrical Lola(1961), presented on a restored new print.
The programme also features Documenteur, a melancholic 'emotion picture' about the end of a relationship, by Demy's widow and key French filmmaker Agnès Varda.
Shown alongside Documenteur is Incident urbain, a short film set outside the French National Library in Paris from France-based Irish artist John Lalor who will discuss working at the intersection of art and cinema with artist Garrett Phelan after the screening.
Directors whose work has been presented regularly at the festival include Francois Ozon with Jeune & Jolie, and Xavier Dolan with Tom at the Farm, while familiar on-screen faces can be found throughout the festival such as Catherine Deneuve in On My Way (which will be followed with a Q&A with director Emmanuelle Bercot), Audrey Tatou in Chinese Puzzle, and Tahar Rahim and Léa Seydoux in Grand Central.
Those with children aged 7+ can take advantage of the animated adaptation of the selling-book of the same name My Mommy is in America and she met Buffalo Bill.
Set in the 1970s, it is a sparkling and thought-proving tale about childhood loss and hiding from the truth.
The IFI acknowledges the financial support of its principle funder, the Arts Council. Additionally the Carte Noire IFI French Film Festival is made possible with the support of Carte Noire, the Embassy of France in Ireland, Air France, the Alliance Française, The Irish Times and The Westbury Hotel.
Speaking of the company's sponsorship, Sandra Gahan, Marketing Manager for Carte Noire Ireland, said: "We are proud to partner with this fantastic festival as it is a perfect fit for our brand. Carte Noire is steeped in French heritage; we take a lot of inspiration from French culture. We are excited to be title sponsors of the 2013 event, and look forward to celebrating French film with the Irish public."
Speaking on behalf of the IFI, Director Ross Keane said: "Securing a title sponsorship agreement with Carte Noire demonstrates the increasing popularity of the IFI French Film Festival and its remarkable growth since its launch in 2000. The Irish Film Institute is delighted to welcome Carte Noire on board as title sponsor and looks forward to working with them for the 2013 festival."
www.ifi.ie
(IT/MH)
Top Related Stories
Click here for the latest broadcast news stories.