Broadcast News
15/04/2013
BFI Announces New Film Training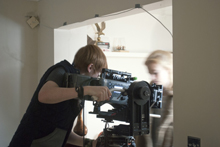 The British Film Institute has announced that new organisation Film Nation UK will deliver a film education programme for 5-19 year-olds from September 2013.
Film Nation's new programme, using funds from the National Lottery, will aim to "safeguard and boost future film audiences through learning and appreciation of film and stimulate a new generation of filmmakers and film talent".
The news was announced by BFI Chair Greg Dyke.
The BFI has awarded £26m Lottery funding for Film Nation UK to deliver a programme over four years (2013-17).
Film Nation UK builds on the legacy of First Light and Filmclub and unites film industry figures Eric Fellner, Barbara Broccoli, Heather Rabbatts and Beeban Kidron and a raft of significant partner organisations including Pearson, National Union of Teachers, LOVEFiLM, National Schools Partnership and many grassroots organisations from across the UK.
The new programme hopes to reach out to aspiring film students across the UK-wide by working with the BFI's strategic partners, Creative Scotland, Creative Skillset, Film Agency Wales, Northern Ireland Screen and the devolved governments and assemblies in the nations of the UK.
Ed Vaizey, Minister for Culture, Communications and Creative Industries said: "Lord Chris Smith's review of UK film policy, commissioned by this Government, highlighted the need for a new film education programme to ensure the continued success of our brilliant film industry. We tasked the BFI with developing a strategy that would not only boost audiences, but would cultivate and nurture the next generation of film talent, and I'm confident that the wealth of industry knowledge and expertise that Film Nation UK brings together will do exactly that."
Amanda Nevill, CEO of the BFI, added: "Film is one of the industries with the greatest opportunity for sustained future growth so investing in the future is vital, whether growing tomorrow's audiences or inspiring future filmmakers who will ensure Britain remains one of the most important places on the planet for film. Today takes us one step further towards this. I'm so excited that we have a new organisation to deliver this quantum leap in film education and we believe that Film Nation UK has a team behind it with the skill, passion, creativity and experience to bring this vision to life."
www.bfi.org.uk
(IT/CD)
Top Related Stories
Click here for the latest broadcast news stories.