Broadcast News
04/10/2013
Improving Accessibility: The Emergence Of Spoken Subtitles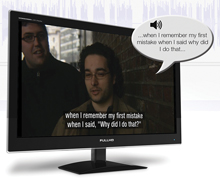 The provision of subtitled broadcast content to provide an increased level of accessibility for the hearing impaired is at a very good level in the UK, US and in many European countries. Now, explains Screen CTO Simon Hailes, the focus is moving towards improved accessibility for the partially sighted.
Traditionally in the UK, accessibility for the partially sighted is provided in the form of Audio Description (AD) where visual cues within the video such as a physical position of a character or prop are verbally described. These audio descriptions are then accessed via a feature of the consumer's decoder or premixed with a normal stereo track and broadcast as an alternative feed.
Audio Description has certainly made more content accessible to the blind and partially sighted but any programming that has been subtitled for translation purposes has remained out of reach to this portion of society.
In this case then, the use of spoken subtitles, performed by using Text To Speech (TTS), may just plug that particular accessibility gap.
As is true with any business though, the economics of providing a service to a minority group has to be considered, and with the partially sighted audience being approximately 3.3% of the population – with 90% of those over 65 years old – however important the demographic is, the provision of such services has to be cost-effective in order to be widely adopted. Often in cases like this the provision of these types of services needs to be mandated.
Interestingly, an observation that may strengthen the implementation of such audio services is that spoken subtitles may also benefit the dyslexic consumer with the British Dyslexia Society citing that 10% of the UK population are dyslexic with 4% being severely so2.
So, is text-to-speech suitable for Audio Description content? Relevant research suggests that it is, indicating that the majority of AD users would be happy with TTS for audio description if it leads to more AD provision.
In an environment, therefore, where AD provision is being mandated for more broadcasters and for a greater percentage of content, the economics may demand that TTS is used for channels with lower viewing figures.
Spoken Subtitle Provision
Unlike Audio Description, Spoken Subtitles are traditionally provisioned using Text to Speech simply because the textual data is already available in the form of subtitle files. Adding machine-reading, therefore, poses less of an operational challenge.
Currently, the TTS of subtitles is performed in a number of different ways having been developed independently by different national broadcasters.
These vary from decoding Teletext in a PC environment and reading the subtitles directly, to sending a text feed to a centralised server where the audio is produced prior to internet distribution to specialised decoders.
In any case, the original spoken audio (in its native language) is usually still audible so as to convey 'hint' information such as the mood and gender of the speaker. This reduces or indeed can eliminate the need for this kind of information having to be included in the TTS feed.
Screen's Polistream Implementation For Spoken Subtitles
The new implementation in Screen's Polistream subtitle transmission system consists of an output driver which connects to the channel server in the same way as all other output drivers.
The specialist Polistream module receives 'subtitles' and renders them to produce an audio snippet. If the subtitles are timed (i.e. playout), conditions are in place to modify the snippet if it is too long or queued behind more than four seconds of existing audio data.
As the audio data is presented for playout, it is either duplicated into both channels of the stereo pair, or the right track is filled with the AD control data indicating the fade and pan values for the snippet. These are set to configured defaults, or drawn from metadata in the subtitle if present.
The voices are specifically rendered at their native sample rate and converted to 48kHz for output to any Windows sound device.
Screen has selected a card with eight stereo pair AES-EBU outputs, which may be synchronised to a 'world clock' signal or to an incoming AES-EBU signal. Alternative delivery can be facilitated by simple integration with internet radio servers, for example IceCast, using virtual audio cables.
'Live' subtitles can equally well be rendered using the module, but in this case, the duration is unknown ahead of time, so there is no rate modification.
Provision for file-based workflows has also been considered, with a specialist module being made available for Screen's offline processing framework MediaMate.
www.screensystems.tv
(IT/CD)
Top Related Stories
Click here for the latest broadcast news stories.