Broadcast News
30/09/2013
Peter Glenville Celebrations Announced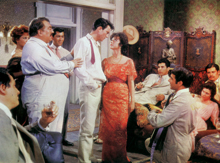 Big names from the world of screen and stage are to gather in London this November to celebrate the life of Peter Glenville, some 100 years after his birth.
The event is part of centenary celebrations honouring the London-born director and organised by the Peter Glenville Foundation.
Glenville is most remembered for golden age classics like the historical biography Becket (1964) starring Richard Burton and Peter O'Toole and the Alec Guinness comedy Hotel Paradiso (1966).
Screenings of his films will be shown at the ICA (institute of Contemporary Arts) and the BFI (National Film Theatre), while an exhibition of photographs from the director's life and works will appear at the Old Vic's Pit Bar.
"Glenville's last work in Britain was in 1970 so if his name doesn't ring bells instantly it's because he was mainly a Broadway director in his later years," says Martyn Auty, Event Curator.
"And because he quit while he was ahead and could enjoy over 20 years of star-studded retirement in his adoptive home of the USA, where he was the darling of the Manhattan set.
"Glenville was much loved in Theatreland and in Hollywood. Having been an actor himself - a matinee idol indeed - he was an actor's director par excellence. Among those who knew what a true director should be like his name was spoken with acclaim and admiration. That he should leave a foundation to support future directors is a mark of a great man."
Kevin Spacey, Artistic Director at The Old Vic added: "I find it incredibly moving that Peter Glenville - who gained experience of his craft as Director of The Old Vic in exile in Liverpool during the War and then had success on Broadway and in film - should have chosen to invest his legacy in the next generation. The Foundation's support of The Old Vic inspires and encourages us all at the Theatre because it chimes brilliantly with our own commitment to mentoring the next generation of young actors, writers, directors and producers."
Glenville began his film his career as an actor in London in the 1930s and made the leap behind the camera by the mid '40s.
From the mid-1950s to the early '70s he enjoyed a prolific career on Broadway and in Hollywood directing some of the biggest names in the business, including Elizabeth Taylor and Laurence Olivier.
His film Becket was nominated for multiple Academy Awards, including Best Film and Best Director. Glenville was also nominated for four Tony Awards, two Golden Globes, one Academy Award, one Golden Lion Award, as well as one Director's Guild nomination for Summer & Smoke.
Image: Summer & Smoke (1962) – courtesy of BFI National Archive.
www.bfi.org.uk
(IT/CD)
Top Related Stories
Click here for the latest broadcast news stories.