Broadcast News
26/03/2013
4K Restoration: Classic Films Make Awards Final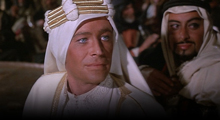 As film restoration continues to introduce a new generation of movie fans to some of cinema's greatest achievements, two classic, newly-restored films have been announced as finalists of the 2013 Focal International Awards.
David Lean's Lawrence of Arabia (1962) and Laurence Olivier's Richard III (1955) underwent digital film restoration processing at MTI Film and were restored under the direction of Sony Pictures Entertainment's EVP of Asset Management, Film Restoration and Digital Mastering, Grover Crisp.
Lawrence of Arabia went through a 4K-remastering and restoration process prior to its 50th anniversary release by Sony Pictures last year.
Throughout the film, certain sections where camera rolls had suffered exposure to the desert heat had caused the emulsion to dry and crack, resulting in hundreds of small, vertical fissures in each frame. Although these had always existed, decades of wear and tear had exasperated the problem.
The cracks were thin, irregular lines, 1-3 pixels wide and separated by as little as 1 pixel in a 4K frame.
MTI Film worked on the restoration and developed new algorithms, as well as creating and modifying existing software, to address the problem.
But manual intervention was also required. In some cases, scratches were found running through multiple shots. These needed to be removed carefully to avoid affecting the underlying imagery and grain structure.
Richard III was restored under the aegis of The Film Foundation.
It has been described as the best film adaptation of a shakespeare work, but regardless of personal opinion, it is certainly one of the most well known.
Working from the original Vistavision negative, the film was scanned and restored in 4K, resulting in dramatic improvements to picture and sound. MTI Film and its Correct DRSTM system were enlisted to repair a wide variety of problems which had been the result of age and maltreatment.
"MTI Film was honoured to contribute to the restoration of these two exceptional films and we extend our congratulations to Grover Crisp and the entire restoration team on their recognition by the Focal International Awards," said MTI Film CEO Larry Chernoff.
"Thanks to their hard work and artistry, these films can be enjoyed by a new generation in the form that the filmmakers intended."
The 2013 Focal International Awards will be presented May 2 at the Lancaster London Hotel, celebrating the best use of footage material in all variety of genre and media platforms, as well as paying the deserved recognition to researchers, technicians and producers.
http://www.mtifilm.com
Top Related Stories
Click here for the latest broadcast news stories.