Broadcast News
19/09/2013
World's First 4K Multi-Camera Live OBVan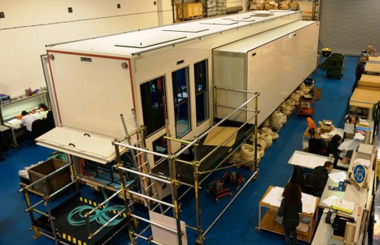 Sony has announced that it has been selected by long-term partner Telegenic to design and build one of the world's first 4K Outside Broadcast (OB) trucks. The next generation outside broadcast vehicle, capable of capturing live footage in HD or 4K, delivers a bespoke solution that will push new production boundaries and pave the way to a 4K future. It will be used in the coming months at a number of high-profile events.
Mark Grinyer, Head of Business Development - 3D, 4K & Sports at Sony commented: "Innovation in entertainment is at the core of Sony's mission. For the past eight years we've been a pioneer of new technology solutions, and with this latest announcement we're set to unlock the potential of 4K in the live environment. We've got a long history of working with Telegenic to create trucks and solutions that transform live production and deliver incredible viewer experiences. Today's announcement is an important milestone for the future of 4K and live broadcasting and we're extremely excited to be taking the next step in achieving a world beyond HD."
Leveraging the collective experience and commitment of Sony and Telegenic, the vehicle will produce new solutions for managing the complicated issues at play in delivering 4K in a live environment. It will be capable of capturing live footage in HD or 4K, supporting two unique formats out of the same truck, and is underpinned by Sony's existing product portfolio. This includes the HDC-2500R cameras which will be utilised for capturing HD content, and Sony's F55 35mm 4K cameras for shooting in 4K. Driving the solution is Sony's MVS-8000X Vision Mixer which handles Quad Full HD Streams (QFHD) as if they were a single source, Miranda's 4K UHDTV enhanced 8500 Series Routers, and three Sony PVM-300 4K LCD monitors, to deliver a reliable 4K production workflow. A Calrec Apollo 5.1 audio desk will also form an integral part of the trucks technical backbone.
Sony has a long-standing relationship with Telegenic having built six trucks together in the past eight years. The same trucks have been used to deliver some of the world's most high-profile live and sporting events in HD and 3D, from the FIFA World Cup™ to the Champions League Final. "Sony and Telegenic are continually striving to revolutionise the live production process and together we've broken new ground in delivering new formats to market - first with HD, then 3D and now with 4K. This latest venture, which is set to make 4K live production a reality, heralds a new era for the broadcast market which will, in turn, transform the entertainment experience as we know it," explained Peter Bates, managing director, Telegenic.
"The depth and breadth of Sony's expertise means it's in a unique position to ensure that each device within the production workflow supports the features required by the overall 4K" he continued.
Sony
Telegenic
(MH/CD)
Top Related Stories
Click here for the latest broadcast news stories.