Broadcast News
01/04/2014
Sony To record Canonisation in 4K, 3D And HD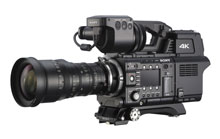 The ceremony to mark the canonisation of Blessed John XXIII and John Paul II will take place on 27 April in St Peter's Square in Vatican City. Sony has announced it will be broadcasting the event in 4K Ultra HD using its PMW-F55 cameras in a studio set-up.
The event will be produced by the Vatican Television Centre (CTV) in partnership with Sony and Sky Italia, and with technological support from DBW Communication and Eutelsat. It will be broadcast live in 4K at the Paul VI Audience Hall in the Vatican. Sony partner Prevost Srl will be facilitating a live 3D broadcast of the event in Sotto il Monte Giovanni XXIII, the birthplace of Pope John XXIII, using a Sony SRX-R515P projector. As a result of collaboration between Sony, Sky Italia and Eutelsat, spectators will be able to experience the moment in 3D.
The 4K filming will take place in six locations in a studio set-up in St Peter's Square, using an advanced PMW-F55 camera system connected to a 4K-ready OB van.
The F55 offers advanced Super 35 mm sensor and a resolution of up to 4096 x 2160 pixels (11.6 million pixels in total). As well as the F55, the Sony MVS-8000X video switcher will also be used in Sony's 4K Live Production System, along with a 30-inch professional PVM-X330 LCD 4K monitor system and the new PWS-4400 4K server. The production will take place with the support of DBW Communication, who will also be providing an OB van that has been upgraded for 4K specifically for the ceremony, and the signal will be transmitted via a Eutelsat satellite.
Sony's SRX-R515P projector is a high-quality 4K digital cinema projection system that can create high contrast 8000:1 images by reducing leaked light.
This production will be an important test case for 4K, as well as a chance to demonstrate its impact through a real production. It will also serve as rehearsal for the FIFATM 2014 World Cup final, which will take place on 13 June in Rio de Janeiro, Brazil, and will be filmed in Ultra HD (4K).
"The production of 4K content is a field that the Vatican Television Centre is very interested in, and we are focusing on the development of this new production technology. 4K is an excellent technological resource that helps us fulfil a significant part of our mission: to accurately document and preserve images of the Ministry of the Supreme Pontiff and the activities of the Holy See in high quality and for as long as possible", stated Monsignor Dario E. Viganò, Director General of the Vatican Television Centre.
David Bush, Head of Marketing for Sony Professional Solutions, Sony Europe, commented: "Sony continues to redefine the frontiers of technology. This is the first time that these three levels of production are being used together in such an important event, so it is important to use the most technologically-advanced equipment to capture every detail. On this significant occasion, we are extremely pleased to be able to support the Vatican Television Centre, with whom we have already collaborated for many years in its pursuit of innovation."
"The company mission of DBW Communication is to produce audiovisual equipment and provide services based on the use of the most advanced technology for cinema and television productions. We are delighted to bring our expertise to the table in this 'technological synod' that aims to produce an unprecedented event, both in terms of the cultural value and the advanced production and broadcasting systems for audiovisual content, " stated Stefano Rebechi, Sole Director of DBW Communication.
"Providing satellite coverage for such a historic event to test Ultra HD live broadcasting is an exceptional opportunity to work alongside partners who are sector leaders in 4K broadcasting. Eutelsat is a pioneer in the transmission of images at a definition four times that of HD, which reflects our ambition to explore new broadcasting frontiers. We are proud to offer our expertise and resources to prove the importance of co-operation in developing new video technologies", said Renato Farina, CEO of Eutelsat Italia.
www.pro.sony.eu
(IT)
Top Related Stories
Click here for the latest broadcast news stories.