Broadcast News
03/09/2013
Cineworld IMAX Deal To Expand Revenue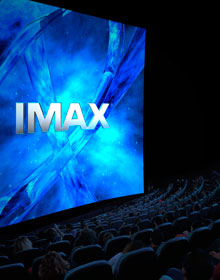 An IMAX digital theatre system is to be installed at the Glasgow Science Centre in Scotland, following a new revenue-expanding partnership with the UK's largest cinema chain, Cineworld.
A further IMAX theatre is to be added at a location yet to be determined, bringing Cineworld Group's IMAX commitment to a total of 13 under the revenue share arrangement.
Cineworld will now take over operations at Glasgow Science Centre's IMAX theatre and will install an IMAX digital theatre system before transitioning to the dual 4K laser system.
"Cineworld is delighted to add another IMAX theatre to our circuit and to install IMAX's upcoming laser solution at the Glasgow Science Centre, which will allow us to present the full spectrum of IMAX content," said Crispin Lilly, Vice President of Business Affairs, Cineworld Group PLC.
"The IMAX Experience® has become synonymous with the biggest event movies and, as such, we're pleased to build on our successful partnership."
"As we expand our network throughout Europe, growing relationships with partners such as Cineworld is a key strategy to support our growth," said Andrew Cripps, President, IMAX EMEA.
"Together with Cineworld we look forward bringing even more audiences across the UK the biggest blockbusters in the world's most immersive film format."
IMAX's laser digital projection system incorporates laser digital intellectual property licensed from Eastman Kodak and Barco's laser innovations.
It is expected to set new standards within the cinematic entertainment industry, offering greater brightness and clarity, a wider colour gamut and deeper blacks.
Cineworld Group is currently the number one cinema chain the UK, in terms of both box office and admissions.
It was founded in 1995 by Steve Wiener, the current Chief Executive, and now operates 81 cinemas across the UK & Ireland, of which 77 are multiplex sites with five screens or more.
IMAX is headquartered in New York, Toronto and Los Angeles, with offices in London, Tokyo, Shanghai and Beijing.
As of June 30, 2013, there were 767 IMAX theatres (634 commercial multiplexes, 19 commercial destinations and 114 institutions) in 54 countries across the globe.
www.imax.com
(IT/JP)
Top Related Stories
Click here for the latest broadcast news stories.