Broadcast News
29/08/2013
PHABRIX Rx With Unique T&M Multi-Viewer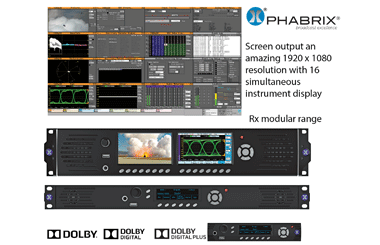 PHABRIX has been developing its Rx rack mount range with many new developments added into Version 9 on show at IBC this year, in Hall 8 E35.
Key among these are several major audio announcements including a new full dolby decode module with support for Dolby E, Dolby D and Dolby D plus making the Rx a significant provider for the testing of Dolby within broadcast infrastructure. A new four-channel AES module and enhancement of loudness monitoring to offer 4 simultaneous channel displays PHABRIX's development path in offering both video and audio T&M support in one combined instrument.
PHABRIX has also added new closed caption support per input offering 608/708/WST and OP47. The intuitive user interface provides an easy to use set up for closed caption display along with the ability to view 608 and 708 side by side through separate input cards. Time code display with LTC and VITC, safe area and advanced preset control with up to 99 choices further enhances the present toolset.
In line with PHABRIX's continuous improvement to its range and the ease with which in the field instruments can be upgraded using FPGA technology, PHABRIX has added significant resolution improvement to its waveform display. Combined with its 'best in class' 1920 x 1080 output display, the new waveforms provide detailed response including RGB mode. Importantly operators are not confined to a set of screens, the instruments can be defined and overlapped if required enabling a full picture on monitor mode and with a simple click the preset display can be available instantly underneath – a clear bonus for OB truck operation. Picture scaling and native display complements the instrument upgrades.
The versatile PHABRIX Rx modular rack mount system is available in three chassis types, a 2U version with two integral screens and two rasterizers, the 1U Rx1000 a the demi Rx 500 1U half rack.
The rasterized output is available on all three chassis type offering 1920 x 1080 output providing the best in class solution for reporting instruments at high resolution. Add to this the capability of seeing 16 instruments per channel simultaneously and it's not hard to see why new customers are seeing the reward of being able to track video faults using a single multiple instrument view.
Differing modules are available including analyser, generator, combined analyser/generator, audio AES and Dolby with the Rx2000 and Rx1000 configured with 4 slots and the Rx500 supporting 2. Uniquely the Rx 2000 and Rx 1000 can provide 4 separate eye patterns at any one time, more than any other T&M solution setting the Rx range apart from other main stream solutions for high level physical layer analysis and real time comparison.
PHABRIX will be demonstrating the new toolsets and features available on the Rx in its training zone on the booth in Hall 8 E35. Visitors wishing to understand Dolby analysis and generation, evaluating eye and jitter measurements and audio/video fault analysis should make their way to the stand on the hour.
PHABRIX
(MH/JP)
Top Related Stories
Click here for the latest broadcast news stories.