Broadcast News
21/08/2013
Prompting At The Palace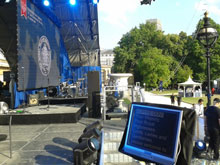 Script prompting specialists Prompting Plus Ltd recently provided services used on-stage by performers and the BBC for the Coronation Festival Gala in the gardens of Buckingham Palace.
The event was held to celebrate the 60th anniversary of The Queen's Coronation.
A 50-metre wide stage was constructed in the Palace gardens by Hawthorns to present performances from a wide range of artists. The Gala was organised by Media 10, with full technical production provided by Hawthorns.
"Because the high profile event was all outdoor, and televised, it presented Prompting Plus with a particular set of problems to overcome," the company said.
"Prompting must always be as discreet and unobtrusive to the audience as possible, so to achieve this three script display methods were used at different times and on various areas of the stage."
These were a video monitor mounted on a music stand, a video monitor mounted in a wedge-speaker style hide and a conference style glass and stand system.
Peter Larter, Managing Director of Prompting Plus Ltd, said: "The size of the event, all outdoor with both a live and a television audience, meant that a mixture of discreet prompting methods was required – all readable in sunlight. It provided a very individual set of requirements that we are pleased to say were successfully achieved as everyone using our systems was confidently word perfect."
www.promptingplus.co.uk
(IT/JP)
Top Related Stories
Click here for the latest broadcast news stories.