Broadcast News
01/08/2013
SGo Heats Up Lava Land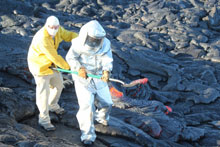 3D Specialist BTV Post has selected the SGo Mistika for grading, online-finishing, re-versioning and digitally mastering four documentary films titled Lava Land for Electric Sky.
Filming included aerial helicopter shots, footage from active volcanoes on hot lava surfaces and underwater filming, all using different cameras.
Footage was uncontrolled and had to be stabilised in Mistika at BTV Post. Ian Grey, Colourist and Online Editor was responsible for the entire post production of the complex project, working with George Dutton Online Stereographer at BTV Post.
"The production team brought back some truly stunning images of lava deltas but were forced to shoot a lot of the footage at a distance through heavy plumes of white smoke," he said.
"This caused the lava to become lost and flat within the image, but with Mistika I had the ability to isolate the colours of the lava, using its wide range of qualifying tools, allowing me to boost the colours of the lava to really accentuate the warm hues. Combined with pre-sets or hand-drawn shapes, which I could track, I was able to do the corrections required."
The commissioning editor, Jim Gagne for TWC, added: "Using Mistika's stereoscopic correction tools, we were easily able to address any problems that arose from filming an observational documentary but there was one sequence in particular that proved problematic. The programme explored the submarine volcano off the coast of Hawaii which required underwater filming. During the course of the shoot a globule of water became visible on the lens in one eye causing the illusion of 3D to be broken. Combining multiple features of the system I was able to paint out the globule with information from the other eye and then using the composition and stereo effects I could converge the fix to sit at the same depth as the rest of the shot. With Mistika's all in one box solution I was able to keep the sequence in the show and in 3D."
Nick Kennedy, Series Director working for Electric Sky said: "With delivery deadlines looming, the Mistika delivered on its promise to quickly and effectively correct the inevitable raft of technical problems that come with Stereo 3D production in extreme environments. And with every iteration Mistika is quickly evolving into the industry's best grading tool, even with up to four different cameras shooting any scene, we left the grade with a consistent look, and some very hot looking lava."
www.sgo.es
(IT/JP)
Top Related Stories
Click here for the latest broadcast news stories.