Broadcast News
01/08/2013
RTS ADAM At The Heart Of French Open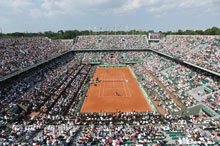 RTS systems have recently been involved with France Télévisions in the broadcast of this year's French Open Tennis tournament.
At the heart of the RTS system was a full-sized Advanced Digital Audio Matrix (ADAM) with a modular 248 x 248 configuration.
Both digital and analogue interfaces were used by chief technician Lionel Dubois and his team throughout the tournament.
Coverage from the main stadium was seen in over 150 countries
The ADAM-based network had to coordinate all audio and video feeds from the OB trucks of the national and international broadcasters.
"It was there that all the vital information was pooled," explains Dubois.
"Weather forecasts, for example, which are always of considerable interest at Roland Garros given that it's an open-air event, and changes in the order of play. Fortunately the topology of the intercom network allowed us to ensure that all those who required it were plied instantly with the latest information as soon as it became available."
In addition to the technical management of the event, the ADAM matrix provided the nerve centre for communications between the international broadcasters and the master control room.
"All were connected via an ADSL network and an IFB system," says Dubois. "This allowed the international commentators to communicate directly with their respective control rooms. The latter were even able to commission special image formats from France Télévisions."
For the next major sporting event in his diary, the Winter Olympics from Sotchi, Dubois will once again be relying on systems from RTS.
www.rtsintercoms.com
(IT/CD)
Top Related Stories
Click here for the latest broadcast news stories.