Broadcast News
30/04/2013
RTS Systems Fit Out Cruise Line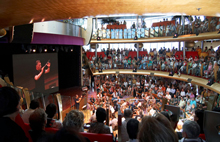 RTS intercom systems have been used to equip all ten cruise ships on the AIDA line.
The installation was carried out by Hamburg-based sound specialists Amptown System Company (ASC).
Each of the intercom installations is built around a dual channel RTS BTR-800 full-duplex wireless system. The BTR-800 in the Theatrium is linked to two RTS MCE-325 master stations, eight BP-351 belt packs, four TR-800 wireless belt packs, eight WMS-300 wall panels and an RTS SPK-300 keypanel. An additional two-wire system is used on the pool deck.
Stefan Thomsen, ASC's communications specialist, said: "The technicians are able to connect their belt packs to the system via patch fields."
As well as one MCE-325 and one RTS SPK-300 keypanel, six BP-351 belt packs and five WMS-300 wall panels are employed on the sun deck.
The third, mobile, intercom system is connected to two wired RTS BP-319 belt packs, two wireless RTS TR-800 and RTS TR-700 belt packs and five RTS PH-88 headsets.
"The corresponding BTR-800 base station is installed in a central equipment room," explains Thomsen.
"Via an antennae patch field, this can be assigned to any of the various events locations on board the ship. This makes it possible for the cameraman with his wireless belt pack to move freely within the venue in question, whilst remaining at all times in contact with the control room and other participants."
Events can be recorded and edited or relayed directly to a screen.
"Although in many ways resembling a theatre installation, an onboard installation is different in important respects," adds Thomsen.
"The prevailing conditions at sea have to be taken into account from the earliest stages of planning. Due to the salty sea air, for example, we needed to use suitably resistant materials throughout this installation."
Reliability is also a key criterion when it comes to onboard installations.
"On the open sea, you have no ready access to spare parts," explains Thomsen. "The durability of RTS equipment was therefore a decisive factor here in its favour."
www.rtsintercoms.com
(IT/CD)
Top Related Stories
Click here for the latest broadcast news stories.