Broadcast News
31/07/2013
Player Channel Opts For Playbox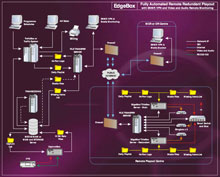 Playbox has announced the adoption of its EdgeBox automated remote playout solution by Europe's largest dedicated broadcast gaming network, The Player Channel.
The new system is installed at the channel's playout service provider and can be fully controlled from the broadcaster's operations centre in Hammersmith.
"Moving to a new transmission service company gave us the opportunity to invest in a more versatile playout system," says Crispin Nieboer, founder and Chief Executive Officer of The Player Channel.
After studying the various solutions currently on the market, we identified PlayBox Technology EdgeBox as offering exactly the facilities we needed, and at a sensible price. The new installation gives us dynamic playlist and graphics control from our operations centre in London. PlayBox Technology installed the entire system within one week and provided onsite training at our Hammersmith studios. Easy to use, highly responsive and very reliable, it has proved a real winner."
"The solution provided to The Player Channel includes a CaptureBox in the operations centre to capture from tape, plus a traffic management system with full integration into both the operations centre and the playout site," adds PlayBox Technology UK Sales Director Ben Gunkel.
"The advantage of the EdgeBox workflow is that Player Channel is able to maintain exactly the same standard of operation as with its previous service provider but with more direct control, and at a fraction of the cost. Player Channel can also use the EdgeBox live pass-through feature to switch in and out of live feeds when they overlay custom graphics with the built in TitleBox module."
Also installed for The Player Channel at its playout service-provider is an EdgeBox fully automated playout system which forwards a video, audio and data stream by satellite and cable to a potential 30 million viewers across Europe.
"This installation fully demonstrates the operational and economic advantages which can be achieved using modern broadcast infrastructure," comments Don Ash, PlayBox Technology Managing Partner and Director, Sales.
"The total system provided to The Player Channel allows file and playlist delivery via a standard internet connection, contributing a huge saving compared with the cost of using traditional dedicated fibre or satellite links."
The Player Channel is Europe's largest dedicated gaming TV network and is available online to a global audience. It broadcasts the most popular poker videos from around the world, including the World Series of Poker, World Poker Tour and High Stakes Poker, as well as poker instructional shows, news updates, documentaries, tournament reports and interviews with the world's leading poker players.
www.playbox.tv
(IT/JP)
Top Related Stories
Click here for the latest broadcast news stories.