Broadcast News
31/07/2013
David Wright Selects Anton Bauer for Blind Pass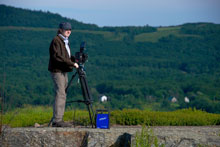 Award-winning documentary filmmaker David Wright has recently taken on the role of director of photography for Blind Pass, a new independent feature film.
Shooting primarily in Ireland, with additional scenes filmed on location in Florida, Wright selected power solutions from Anton/Bauer for the 16-hour days of shooting.
Dark thriller Blind Pass follows Carrie, a young woman facing the fact that she will soon go blind. She and her therapist travel through Ireland to fulfil her wish of experiencing the country while she still has sight.
In order to deliver quality on a tight budget without expensive grip and lighting packages to complement the RED MX camera, Wright's gear included several Anton/Bauer DIONIC® 90 batteries, various Gold Mount® solutions, a TWQ charger and a back-up Tandem 150 charger.
"Digital technology can be power hungry," he explained.
"That meant turning to my Anton/Bauer battery kit to help me get through shooting incredibly long days and in every kind of inclement weather condition and location, from the back streets of Dublin to the rugged cliffs of Ireland's west coast. Anton/Bauer's reliable, high-capacity and compact batteries were essential."
Wright's battery of choice was the DIONIC 90, which he previously used for a wildlife shoot in the Arctic. The kit consisted of two 1x1 Daylight Floods and a camera-mounted Litepanels Mini. Wright powered the 1x1s through Anton/Bauer's Gold Mount. He used the QRC-EPIC Gold Mount on the RED camera, which was mounted on the MATRIX Cheese Plate. An Anton/Bauer PowerTap Multi adapter was used to draw power from the Gold Mount to run his LP Mini.
"While there are larger-capacity batteries that I also like to use, such as the DIONIC® HD, the compact size and lighter-weight of the DIONIC 90s mean they fit snuggly into a camera bag for travel and are great for handheld camera work," he says. 
Wright always brings a simultaneous, four-battery charger such as the TWQ to shoots to ensure he always has fresh batteries available.
"With the DIONIC 90s in my standard kit, the last thing I want to do after a hard day in the field is get up in the middle of the night to swap out batteries on the charger," he says.
"So for me, my current go-to charger is the Anton/Bauer TWQ. I also take a backup Tandem 150. The TWQ has not failed me yet, but the Tandem 150 allows me to charge a battery and power the camera from mains, when available. So it is like an insurance policy. With a profile smaller than a battery, it attaches to the same Gold Mount on the back of the camera, offering reliability and ease of use."
www.antonbauer.com
(IT/JP)
Top Related Stories
Click here for the latest broadcast news stories.