Broadcast News
31/07/2013
Hitchcock Awarded UNESCO Status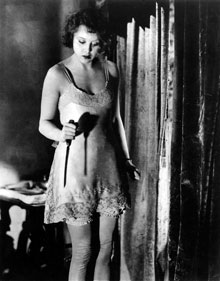 Nine surviving silent films by Alfred Hitchcock have been added to the UNESCO UK Memory of the World Register.
Since premiering in the BFI National Archive restorations during the London 2012 festival, the films have been touring cinemas internationally, marking a welcome addition to the horror/thriller director's portfolio. All nine will screen again at BFI Southbank throughout August 2013.
Moscow, Bologna and Berlin will be just some of the cities taking part in a major worldwide reappraisal of Hitchcock's early films. The works will screen in other major cities including Washington, San Francisco and Los Angeles as part of a US national tour.
The UNESCO UK Memory of the World Register features historical and cultural items that "embody pivotal moments in the history of their communities and the UK as a whole".
The Hitchcock collection is just one of eleven new items added to the Register, along with Tyne & Wear Shipyards collection, Churchill Archives, The Haig Diaries, The Domesday Book and Royal Scottish National Institution archives.
Robin Baker, Head Curator at the BFI National Archive, said: "We are very pleased to see that the early films from one of the world's best known film-makers are taking their place alongside some of the greatest cultural artefacts of the United Kingdom. Film culture is too often overlooked in summaries of British cultural heritage.
"We are delighted that Hitchcock's first nine films, all silent, are now inscribed in the UNESCO UK Memory of the World Register. The BFI National Archive's painstaking restorations are attracting not only new audiences around the world but the acclaim of the international community as important works of world cultural note."
David Dawson, Chair of the UK Memory of the World Committee, added: "This year's inscriptions reflect the richness of UK culture and history, from medieval manuscripts to ground breaking cinema. We hope that today's announcement will encourage people to discover these items and collections, as well as some of the other great documentary heritage near them."
The official inscription reads: "While Alfred Hitchcock is one of the most famous film directors of all time, his first ten silent films – nine of which survive – are little known compared to his later work. These films are among the greatest achievements of British silent cinema, and are blueprints for the rest of his body of work."
The nine films were released between 1926 and 1929 and are as follows:
The Pleasure Garden (Mar 1926)


The Lodger: A Story of the London Fog (Sep 1926)


Downhill (May 1927)


Easy Virtue (Aug 1927)


The Ring (Sep 1927)


The Farmer's Wife (Mar 1928)


Champagne (Aug 1928)


The Manxman (Jan 1929)


Blackmail (Aug 1929) – silent version.
Hitchcock's The Mountain Eagle – the tenth of his silent films – is still missing and is top of the BFI's 'Most Wanted' list.
www.bfi.org.uk
(IT/JP)
Top Related Stories
Click here for the latest broadcast news stories.