Broadcast News
23/07/2013
HARMAN's New Crown DriveCore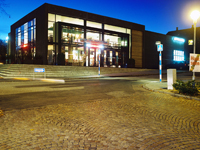 The Cinema Apollon in the Danish town of Struer has long been associated with offering moviegoers the latest and best in cinema technology. In 2013 the Cinema Apollon continues its commitment to the cutting edge with the installation of the first Dolby Atmos surround-sound system, powered by the first of HARMAN's Crown DriveCore Install (DCi) Series amplifiers in Denmark. 
Dolby Atmos is a new surround-sound technology that employs overhead loudspeakers as well as traditional surround speakers to create a remarkably realistic and enveloping sonic environment. Dolby Atmos employs up to 64 loudspeakers to heighten the realism and impact of movie theater sound. The Cinema Apollon is the first to feature the CP850 Dolby Atmos Cinema Processor in one of its theaters.
Danish HARMAN Professional distributor LydRommet Denmark worked hand in hand with Danish theater design firm AVC Kino Digital and Dolby technical staff in London in designing and specifying the system for the 180-seat Dolby Atmos theater. The system had to meet specific Dolby Atmos criteria, including maximum SPL levels for every speaker in the installation. LydRommet Denmark supplied the Crown DCi analog amplifiers and JBL loudspeakers and subwoofers.
The Crown DCi analog amplifiers in the Cinema Apollon include DCi models 8|300, 4|600 and 4|300. The amplifiers power an extensive complement of JBL loudspeakers including JBL ScreenArray® 3732 main speakers and 4642A subwoofers, 42 model 8350 cinema surround speakers and two JBL 4645C subwoofers that provide additional low-frequency reinforcement at the rear of the theater.
The Crown DCi analog amps were specified for their ability to deliver clean, powerful sound from a compact design only 2U rack spaces high, noted Flemming Bjerke of LydRommet. "The Dolby Atmos specification requires 105dB peak SPL at the reference point in the theater, and one of the biggest challenges we had with the system was achieving this spec with enough headroom," said Bjerke. "DCi is such a high-quality amplifier range that it is a perfect match for Dolby Atmos."
Bjerke emphasized how exciting it was to work with the experts from AVC and Dolby in creating the first Dolby Atmos system in Denmark, stating, "listening to the final result is a real joy and the Dolby Atmos technology and concept definitely take the experience of going to movie theaters to a much higher level."
HARMAN
(MH/JP)
Top Related Stories
Click here for the latest broadcast news stories.