Broadcast News
19/07/2013
Bluebell Opticom IBC Preview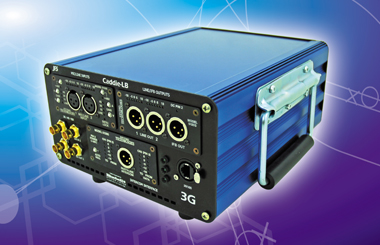 IBC will see the introduction of a new signal transport platform for Outside Broadcast and Infrastructure applications.  With the drive to 4K and 3G systems the PW140 Series from Bluebell offers a universal SDI signal transport over fibre in a compact 1RU frame.  At the heart is a processor which provides simultaneous multiplexing and de-multiplexing of the signals presented to it from the input/output cards.  The initial base configuration provides 6 x bidirectional HD-SDI signals over 2 fibres or 10G Ethernet.  With the addition of audio, data and Ethernet I/O cards, the PW Series offers an optical backbone for all demanding signal transport applications.
When used with CWDM optical multiplexing 96 x HD-SDI signals can be transported over a single fibre.  
We will also be demonstrating Net Caddie, a new compact camera interface using the revolutionary "Stagebox by BBC Research & Development" technology.  Net Caddie allows HD-SDI to be injected directly into a standard network environment, bringing IP to the camera.  Net Caddie transforms the entire camera's bidirectional linear control, audio and video signals into packet based IP protocols, all on a single Cat6 cable to simplify workflows and rigging.  Operators can now plug cameras direct into a venues Gigabit infrastructure for the distribution of live camera feeds.  By using "Stagebox by BBC Research & Development" technology with 100MB/s AVC-I compression, the HD-SDI is converted and carried over the network in full broadcast quality video. This allows a remote camera to be used directly in the production environment and provides video, audio and ancillary information over a time synchronous network.   Most importantly the system is completely synchronised providing an IP equivalent to a genlocked SDI system.  
IBC will be the launch of an extensive range of stand-alone products, including the new BlueLite and Caddie-LB 3G, specifically designed for Outside Broadcast and deployable applications. 
BlueLite is a particularly cost effective solution for 3D camera positions and units have already been tested with compact remote cameras and portable camera cranes and jibs. 
Caddie-LB provides a single cable link between cameras and ENG/OBs . Features include two 3G/HD/SD-SDI video paths in each direction, on-air and IFB audio, intercom, and Ethernet data.  Based around field proven technology the units offer a range of signals to the operator including program video, audio, comms plus data and genlock for camera control and synchronisation.  All signals are multiplexed onto 2 fibres to ensure easy and quick system rigging.  
We will also be showing new enhancements to the popular BC Series, a complete suite of fibre optic interfaces to suit all current and projected broadcast standards. Based around a modular 19" rack mount system, multiple signal formats can be carried over multimode, singlemode, TDM, WDM and CWDM transport solutions.  Enhancements include several new cards including BC860 10/100/1000 Ethernet, TDM-720 and TDM-730 for HD with serial or 10/100 data, BC501 for composite video and the BC625 offering 4 x bidirectional analogue audios.  The new BC363 will also offer multiple format I/O and complete wavelength management.
Bluebell Opticom
(MH)
Top Related Stories
Click here for the latest broadcast news stories.