Broadcast News
18/07/2013
Entering The Age Of Operational Expenditure - Pt 1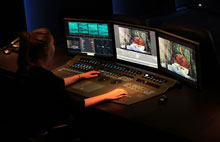 George Jarrett continues his look back at what came out of an NAB littered with strategic partnerships.
The subtle transition of NAB to the laid back style of IBC has born remarkable fruit over the past two years. New technology is set in a wider context; research and development engineers and product managers are more widely available to talk to – for more than the five minutes sales engineers used to allocate; and the software companies have forged incredibly fruitful relationships with the card companies – and both partners talk so much sense.
One of the wider issues in the age of social media is what will happen to traditional production craft skills, and yet the only company to refer to this was Assimilate.
As Panasonic (in part 1) and now Ericsson prove, it pays big dividends to create your own video-processing chip. But NAB would not be NAB without buzz terminology, which is where we start.
The Digital Time Machine
Riding high amongst the new industry buzz terms is Quantel's "Internet of Frames" – a computer scientist's way of getting to the other side of all the issues thrown up by file-based workflows. What does this involve?
Steve Owen, marketing director: "File-based workflows are not a panacea. In too many cases we are taking the workflows we had when we had tape and re-inventing them in the file-based world. What our (R&D) guys are talking about is let's not base it around files. There are going to be files, but what we should think about is the content."
He added: "It is the material that matters, not the physical manifestation. We are differentiating the content from the address of that content. If we can break that link we can do things a whole lot more flexibly."
Dr Richard Cartwright, Quantel's senior software architect, continued the discussion. "We should be able to exploit those frames to empower content producers just like any other resource on the Internet. Quantel has a vision of the Internet of frames where we give every frame a name and identity, and we represent the rich set of relationships that exist between those frames."
He added: "The Internet of Things – connecting your fridge, car, heating system - is going to transform the way we live. Similarly, the Internet of frames is going to change the way that we create our content, and it is going to give us the opportunity to choose between capital expenditure and operational expenditure to get the work done."
Cartwright considered one lonely frame, which is not so lonely because in media we have the frame just passed and those to follow. "Quantel has always been about live and being about close to the record head, and what we have on our digital media systems are frames or sequential relationships. The Internet of Frames is a digital time machine.
"Another kind of relationship that we have is the difference in resolution – from 4K down to browse quality – but all those frames are related," he added.
There are frames from other cameras on the same shoot, the audio tracks, sync relationships, and descriptions that might include rights information. We edit and build timelines, but those frames all share consistent modular representation. Cartwright walked along a URL path to hyper links between documents, Twitter tags, Facebook, etc, the point being there are so many links.
"Once you give something a name on the Internet anyone can make reference to it. We are breaking down barriers and walls, and it is those links that we use to find things," he said. "Google indexes the links, follows the links, however quite commonly the industry will make the mistake of putting something into the paths of things. We use file system paths or use references to specific physical library locations. And if we do that we break things. The revolution here is we are using links like on the Internet."
Quantel looks to lose the genealogy of what was made from what, and The Internet of Frames is also not about asset management systems.
"We are no longer constrained to needing to be in a physical building next to an SDI cable or driving a tape robot. MAM grew up out of supplementing the inaccuracies of files with a parallel database, but that redundant data could get out of sync with what the files actually are.
"The Internet of Frames is about using open standard frames, and no new codecs. We use commodity IT equipment. It is about indexing like Google, not creating databases," he added. "It is about achieving massive scale in content production, loose coupling, and the use of web services. It is about making content production work like the Web."
This is all a vision, a giant poser too. Quantel does not own The Internet of Frames, but looks to provide leadership based around its products.
"One key thing is that we are in a software-only environment now, so this is either a product or something we can access on a pay as you go basis," he said. "RevolutionQ and QTube are the current enablers of Quantel for the Internet of frames. The production process is adding value by creating new relationships and the time has come to empower content creators with the Internet of frames. The time has come to move from capital to operational expenditure, so that we can bring up a broadcast facility at the swipe of a credit card."
Quantel announced support for FIMS with revolutionQ, and had by far the best 4K stand shows thanks to the matching of Pablo Rio with the AJA Corvid UHD 4K card. Broadcasters could see what real-time 4K at 60 fps finishing looked like, and they rushed along in great numbers. They also saw live 8K pumped down to 4K for projection. For storage, the 4K 60p means about 11 Terabytes an hour. The second big partnership (Pablo Rio support) is with NVIDIA for its Kepler architecture-based Tesla K20 GPU accelerators.
Version 2.0 rev3 software for Pablo Rio is a massive jump in terms of multi-GPU architecture and the AJA Corvid Ultra integration. If running the new software a Pablo Rio equipped with three NVIDIA Tesla Kepler K20 GPUs will deliver over 20 layers of colour correction at 4K - at full resolution in real-time. The AJA card also enables the delivery of real-time 4K 60fps.
Also new is support for Apple ProRes, the real-time playback of soft mounted Sony F65 files, and support for the NUGEN VisLM audio loudness monitoring plug-in.  
Targeted At Live Production
Wohler's recent acquisition of RadiantGrid Technologies, and Turner UK's use of its loudness product to make 600,000 pieces of content (WAV files) compliant in just two weeks have given the company a new impetus for creating support technology apps.
Its newest products are the AMP1-MADIe and AMP1-16M audio monitor. The first is an in-rack portable MADI unit with Ethernet control and configuration. Targeted at live production, the system can be connected in series with a 56- or 64-channel MADI stream for individual volume adjustment and audible monitoring of any eight selected MADI channels. There are versions for multi-mode or single-mode fiber connections.
The dual-input SDI audio monitor gives users high-performance monitoring for embedded audio in two 3G/HD or SD-SDI streams. It de-embeds and provides metering and monitoring of any or all of the 16 audio channels in the selected 3G/HD or SD-SDI stream.
Wohler also has three new DVM video monitors: a 5-RU system with two 10-inch screens, a 4-RU system with two 9-inch screens, and a 3-RU system with two 7-inch screens. Other big news concerns V8.0 of the RadiantGrid media transformation platform – which gives users transcoding, standards conversion, and audio processing applications such as loudness correction, QC functions, and content distribution.
Read the article in the online edition of Regional Film & Video
here
(IT/JP)
Top Related Stories
Click here for the latest broadcast news stories.