Broadcast News
16/07/2013
Sachtler Used During 'Mountain Men' Filming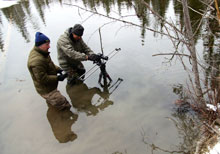 Warm Springs Productions has revealed it will use Sachtler equipment during the filming of the second season of Mountain Men'; a show about living in extreme environments.
"We use only the best equipment, and only the best tripods to keep the cameras stable," says equipment manager Mike Schweizer.
"That's why we use Sachtler tripods and heads on all our shoots. They've been to the deepest swamps and the snowiest peaks. We trust our tripods to keep a steady shot in -50 degrees, in waist-high water and in torrential downpours."
For the second season of Mountain Men, which follows men who live in extreme environments, the team will go to Northwestern Montana, the Alaskan Wilderness north of Fairbanks and the Appalachian Mountains of North Carolina. The team brings two Panasonic HD P2 cameras with Fujinon lenses, a Canon EOS 7D for specialty shots, and the FSB 8 fluid head with Speed Lock 75 CF tripod .
"We use Sachtler because their products are lightweight, durable, and sturdy enough to safely support our production cameras," says Schweizer.
"We spend a lot of time outdoors in extreme environments where we need our equipment to work properly in conditions that can be hazardous to most equipment. With Sachtler's versatility and durability we are able to get the shots we need to make good TV."
Recently, the camera team paired the Canon EOS 7D with the FSB 8 fluid head/tripod with a slider to capture a shot of their subjects right above the water line.
"It is so nice to use a tripod that we can place in the water and not have to worry about it failing and soaking our camera equipment," says Schweizer. "Not to mention that we can just pull it out of the water and keep shooting."
The FSB 8 T fluid head is designed for a range of payloads from 2.2 to 13.2 pounds (1,2 kg – 12,4 kg) so it deftly handles whichever camera/lens configuration Schweizer chooses.
The second season of Mountain Men is now shooting and is planned to begin airing on The History Channel later this year.
www.sachtler.com
(IT)
Top Related Stories
Click here for the latest broadcast news stories.