Broadcast News
16/07/2013
Wohler At IBC2013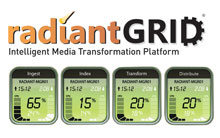 Wohler has announced its product lineup for this year's IBC show.
RadiantGrid Intelligent Media Transformation Platform™
New to IBC this year is the first version 8 series release of the RadiantGrid platform. This release contains a new media processing engine that provides faster-than-real-time content transformation.
The media processing engine performs analysis of all inbound media, with the platform's content management fabric retaining technical metadata at the container, essence, and frame levels. Because this analysis is automated, users never have to tell the platform what type of content is being provided.
The platform brings optimised video pipeline features such as anamorphic video handling, 2K/4K support, and higher bit depths of up to 16-bit YUV. Also new to the platform is full colour legalisation in both the PAL and NTSC domains.
At the audio level, the new media processing engine parallelises complex audio loudness correction alongside the video.
In addition to all of this, RadiantGrid version 8 enables fully compliant OTT offerings for Microsoft Smooth Streaming, MPEG-DASH, HLS, H.265/HEVC, and more.
DVM MPEG DVB-ASI and IPTV Monitors
Wohler will feature its DVM family of video monitors, including the DVM-4290, a 4-RU system with two 9-inch screens; the DVM-3270, a 3-RU system with two 7-inch screens; and the 2-RU DVM-2443 with four individual 4.3-inch screens and decoders.
All of the DVM MPEG monitors provide convenient at-a-glance monitoring of program content from MPEG-2/4 ASI and Ethernet IP streams, as well as 3G/HD/SD-SDI inputs.
The DVM monitors decode and display MPEG-2 and MPEG-4 signals via BNC or Ethernet inputs while giving users the ability to browse the PAT, PMT, and PID data for each selected stream. In addition to MPEG ASI and dual-input 3G/HD/SD-SDI with loop-through, the DVM monitors also accommodate HDMI® video and audio with level meters, GPI, and tally.
AMP1-MADIe Audio Monitor
The Wohler AMP1-MADIe is an in-rack portable MADI monitor unit with Ethernet control and configuration, including compatibility with the Evertz MAGNUM facility control system. It can be connected in series with a 56- or 64-channel MADI stream to provide audible monitoring and metering of any eight selected MADI channels at once.
Wohler's new AMP1-MADIe simplifies rapid selection and monitoring of MADI signals in live-to-air production environments. Two models will be on display, demonstrating support for either multimode or single-mode fiber connections in addition to standard copper on BNC. Each model will also convert fiber to BNC and vice-versa.
AMP1-16M Dual 3G/HD/SD-SDI Audio Monitor
Wohler's new AMP1-16M dual-input SDI audio monitor provides broadcasters monitoring of embedded audio in two 3G/HD/SD-SDI streams.
The 1-RU system de-embeds and provides metering and monitoring of any or all of the 16 audio channels in the selected 3G/HD/SD-SDI stream. It uses bright 2.4-inch LED-backlit LCD displays, enabling one-touch monitoring and summing of any selected pair(s) to built-in speakers, headphones, or XLR balanced analog outputs.
The AMP1-16M monitor features remote access for setup and storage of user-defined presets via Ethernet and USB connections, along with gain adjustment/trim on individual audio channels (as well as select or deselect channel pairs) with the ability to assign channels as left, right, or center (both) to the internal audio system and the analog outputs.
It offers both pass-through of each SDI input and a reclocked output of the selected monitored SDI stream.
AMP2-E16V Series Modular Audio/Video Processing Monitor
Wohler will also present its flagship AMP2-E16V audio/video processing monitor. The monitor features simultaneous multiformat monitoring, quick program selection, instant stereo downmix, loudness monitoring, internal channel mixing including SDI re-embedding and audio delays.
The AMP2-E16V offers Dolby Zoom, Dolby E line position, and CRC error monitoring, as well as automatic system configuration based upon signal inputs, 32 complete system configuration presets, a complete internal help system, and Ethernet software updates. Audio processor card options facilitate easy configuration for multiple SDI, AES I/O, analog I/O, and connection to external surround systems.
www.wohler.com
(IT/CD)
Top Related Stories
Click here for the latest broadcast news stories.