Broadcast News
09/07/2013
News 12 Connecticut Selects Matrox DVI Plus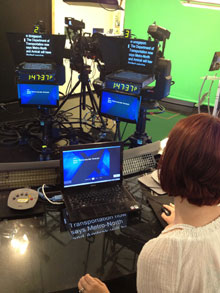 News 12 Connecticut is the exclusive 24-hour local news channel serving southwestern Connecticut.
The channel has recently announced the launch of two new projects: the first involves driving social media content to air while the second involves broadcasting remote weather cameras.
Both initiatives require taking video from a PC and incorporating it into daily broadcasts.
News 12 selected Matrox Convert DVI Plus, a DVI to HD-SDI scan converter with Genlock, to convert computer signals into a format that can easily be integrated into daily production.
Travis Machacek, Studio Operations Manager, explains more about the social media project: "We developed a custom web application that lets us aggregate incoming social media content into a playlist. After a producer builds a playlist of comments and/or photos, he puts the playlist into air mode, which formats the content into a particular look that is stylized to match our station's graphical design.
"We use Matrox Convert DVI Plus to convert the DVI signal from the PC that is running the web application to an HD-SDI feed that can be broadcast through our production switcher in the control room."
The on-set anchors interact directly with viewers via social media as opposed to having the comments and photos go through several steps before being air ready.
By taking a converted feed from a laptop on set, an anchor can choose a region of interest of what they want to share, making for a more immediate interaction with the audience.
"We find this to be a very quick and cost-effective way to get content out to viewers," adds Machacek.
News 12 Connecticut also uses the Matrox converter to broadcast remote weather cameras.
The station has a series of IP cameras installed at various locations throughout their viewing area. The cameras broadcast live network streams of video that are fed back to a server at the station over the internet.
The software application on the server that receives the feeds allows them to view each camera full screen on the server.
Matrox Convert DVI Plus converts the DVI output of the server to an HD-SDI feed that can be taken live to air via the production switcher in the control room. They also split this HD-SDI feed into their weather graphics computer to be used in the meteorologist's presentation during the weather segments.
"Matrox Convert DVI Plus is proving to be a valuable asset to getting additional weather content on the air via our converted weather cameras. As a 24-hour local news station, we can now give our viewers a live look at the weather in their community multiple times an hour, every day of the week," comments Machacek.
In addition to their field crews, the channel uses the cameras to supplement severe weather coverage.
Today, News 12 Connecticut is one of seven regional cable news television channels offered by News 12 Networks in the New York metropolitan area. The entire network broadcasts individually in each of its seven regions, 24-hour-per-day local news to more than 3.5 million cable households in the tri-state area and offers Spanish services in some regions.
Based in Norwalk, Connecticut, News 12 Connecticut reaches Optimum subscribers in 13 communities in Fairfield County, as well as the municipalities of Milford, Woodbridge, and Orange in New Haven County.
News 12 Connecticut plans to use the Matrox Convert DVI Plus for social media, weather cameras, and all other televisual projects.
www.matrox.com
(IT/JP)
Top Related Stories
Click here for the latest broadcast news stories.