Broadcast News
05/07/2013
Channel 4 Sponsor Pearson Playwright Scheme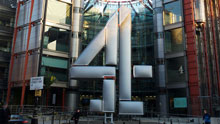 Channel 4 has revealed it has been selected to take over the sponsorship of the Pearson Playwrights' Scheme.
Renamed the Channel 4 Playwrights' Scheme, five bursaries a year will be awarded to support new theatre writers.
For 40 years, the scheme has supported some of the biggest names in British playwriting, including: Joe Penhall, Catherine Johnson, Peter Moffat, Lucy Prebble, Jack Thorne, Martin McDonagh, Nancy Harris, Hanif Kureishi, Lydia Adetunji, Richard Bean and Tanika Gupta.
Each year, the five bursaries are awarded to emerging writers nominated by UK theatre Artistic Directors, with an additional award offered to the writer of the best play.
These are selected by the scheme's panel, this year to include Channel 4 Head of Drama Piers Wenger, chaired by Sir Richard Eyre.
Peter Hughes, Head of Corporate Responsibility at Pearson said: "Pearson has supported the scheme since 1993 and we're all very proud of its amazing legacy. Over the last 40 years, it has helped launch some of our finest British playwriting talent. But, it's time to breathe new life into the scheme and we can think of no-one better placed than Channel 4 to do that. So, we are absolutely delighted that Channel 4 has agreed to take on responsibility for the playwrights' scheme and look forward to seeing it and the writers it supports to emerge and bloom."
Tessa Ross, Controller of Drama and Film4 said: "I'm truly delighted that Channel 4 has been offered this wonderful opportunity: nurturing and supporting the next generation of writers is fundamental to the health of our work in film and television. The alumni of talented writers who have benefited from this wonderful scheme is testament to its value and I thank Richard Eyre and Pearson for thinking of us as careful guardians of its future."
The scheme will continue to be open to any theatre in the UK. Invitations will shortly be sent out to the Artistic Directors of all UK theatres inviting them to submit the work of any writer they consider to have promise.
There are currently five bursaries, each worth £7,000, with four supported by Channel 4 and the fifth by The Peggy Ramsay Foundation.
www.channel4.com
(IT/JP)
Top Related Stories
Click here for the latest broadcast news stories.