Broadcast News
04/07/2013
Photonbeard To Introduce 'Square One' At IBC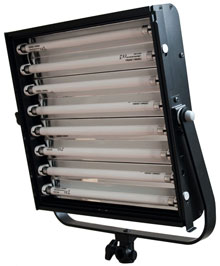 UK lighting solutions providers Photonbeard are to introduce "Square One" to the international marketplace at IBC 2013.
Square One is a one-foot (30cm) square fluorescent lighting panel marketed on its economic potential.
Photon Beard Managing Director Peter Daffarn said: "Square One offers high quality light that is, importantly for broadcast and film applications, consistent. Add to that its high degree of portability ultra-low heat, Square One become a compelling light source for confined spaces. This is important because viewers increasingly want to get closer to the action in drama, news and sport, which means the lighting has to be immersive, flexible and cool. Square One personifies all three, especially the 'cool'."
The Square One panel includes eight 5/8" diameter fluorescent tubes that deliver the equivalent of 110W of balanced illumination, but at only 64W.
It is also dimmable for flexibility and can be powered either direct from AC power or for approximately one hour with a 'V' or 'Gold' mount camera battery.
Making its world debut at IBC will be Photon Beard's Platinum Blonde, a 1200W HMI in an open face format.
Photon Beard will also feature a DMX-controlled Non-Dim Switcher; designed to enable devices that only have standby modes to be remotely disconnected and, therefore, not drain valuable power resources when not in use.
Photon Beard is also introducing a new space light adapter for its Highlight 440 fluorescent lamps.
A new cyclorama hood, also to augment the Highlight 440 range, enables the single fixture to be used to illuminate space up to six metres from top to bottom rather than require lighting specialists to source and position lighting fixtures for illumination from three separate angles.
www.photonbeard.com
(IT/CD)
Top Related Stories
Click here for the latest broadcast news stories.